Wilfrid Laurier University honoured the achievements of its Indigenous graduates alongside their families and friends during a graduation celebration May 2 at Six Nations of the Grand River Territory.
Indigenous graduates from fall 2022 and spring 2023 took part in the event, held at the Gathering Place by the Grand in Ohsweken. The celebration included the presentation of Indigenous graduate stoles, a Six Nations knowledge keeper address and an honour song to the graduates. Attendees also enjoyed a reception and dinner, where students celebrated their academic accomplishments with loved ones.
"This graduation celebration offers an opportunity to honour and celebrate our Indigenous graduates," says Emily Daniel, Laurier's manager of Indigenous Student Services. "It is different from traditional convocation in the sense that it's very focused on community."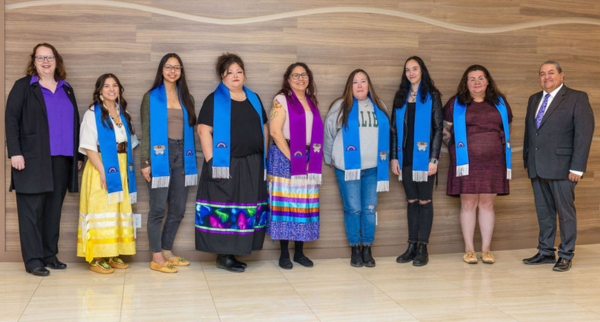 Photo: Laurier President and Vice-Chancellor Deborah MacLatchy and Darren Thomas, associate vice-president of Indigenous Initiatives, join graduates during Laurier's graduation celebration at Six Nations.
Laurier staff, faculty and senior leaders attended the ceremony, which celebrated the accomplishments of 112 self-identified Indigenous students who graduated in fall 2022 and spring 2023. Planning for the event was led by Maggie Allan, campus and community engagement coordinator in Laurier's Office of Indigenous Initiatives.
"We wanted to honour our Indigenous students at Laurier and recognize their achievements in a comfortable and familiar way," says Allan. "To see everyone coming together, sharing a meal, honouring traditions and celebrating our students was very special."
Laurier held its first-ever Indigenous graduation celebration at Six Nations in 2022. It was a meaningful occasion for Sieara Miller, who celebrated earning a Bachelor of Social Work degree with a minor in Indigenous Studies. As well as the Indigenous graduation celebration, Miller participated in a traditional convocation ceremony at Laurier's Brantford campus.
"To have this intimate gathering at Six Nations with our families and our loved ones, it really emphasized the accomplishment of graduating," says Miller, who now serves as Laurier's Indigenous student recruitment and access coordinator. "It felt like a big family gathering."
Indigenizing convocation
In addition to holding a graduation celebration for Indigenous graduates, Laurier is working to incorporate Indigenous elements into its wider convocation ceremonies in Waterloo and Brantford.
As part of all convocation ceremonies, Indigenous graduates are provided the opportunity to wear unique stoles. The stoles feature Laurier's Indigenous Initiatives logo on one side, designed by Bonnie Whitlow, special projects officer in Laurier's Office of Indigenous Initiatives, and the Two Row Wampum on the other.
The specially made stoles – coloured blue for undergraduate degree recipients, purple for master's recipients and white for PhD recipients – are available to Indigenous graduates at Waterloo and Brantford convocation ceremonies. In addition to the stoles, Indigenous graduates are able to wear their traditional regalia to convocation.
Miller, who will begin working toward a Master of Social Work degree at Laurier this fall, credits support from Laurier's Indigenous Student Services staff for helping her through her undergraduate studies. She says she was grateful for the opportunity to celebrate her degree with family, friends and community members as part of Laurier's graduation celebration for Indigenous graduates.
"I find that the sense of community at Laurier is very impactful," says Miller. "Coming to university and finding there was an Indigenous Student Centre on campus, there were Indigenous professors and staff solely to support Indigenous students was very welcoming. There is a great sense of community and an opportunity to find yourself at Laurier."