WATERLOO – Just as weather forecasting plays a vital role in our everyday decision-making, ecological forecasting can be an influential tool for policymakers tasked with preserving our planet and its species. Frances Stewart, the Canada Research Chair in Northern Wildlife Biology at Wilfrid Laurier University, is using a novel ecological forecasting framework to predict how caribou populations in northern boreal forests will change and move in response to climate change over the coming decades. Her results will support conservation efforts by the federal and territorial governments, as well as northern Indigenous communities who rely on caribou.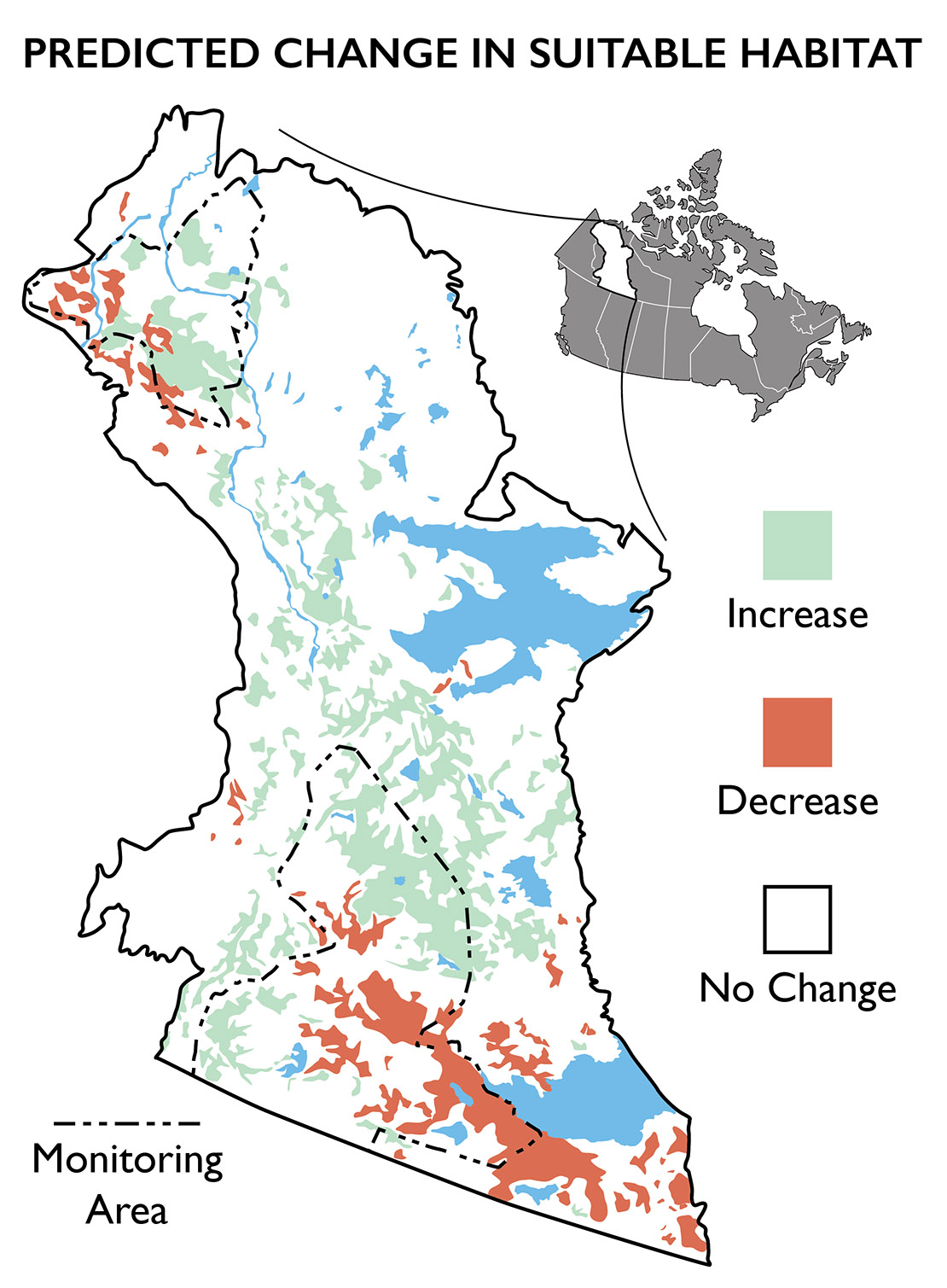 In a new study published in the journal Ecological Applications, Stewart and her co-author Tatiane Micheletti provide projections of habitat and population changes for five boreal caribou monitoring areas within the Northwest Territories over 90 years, from 2011 through 2100. Their projections suggest that boreal caribou habitat will shift north as the effects of climate change drive the conversion of coniferous to deciduous forests.
"We are able to map how tree species in the forests will change over time and we know which trees caribou like and avoid," said Stewart, an assistant professor in Laurier's Department of Biology. "Our forecasting framework allows us to update data and rerun the analyses relatively easily so that we can generate better forecasts as we learn more information and then update local communities. Just as you can look up a weather forecast for Waterloo or Vancouver, we can reproduce this work for other locations and species of interest."
Most research on boreal caribou has been conducted on southern populations largely impacted by human disturbances. In the Northwest Territories, much of their habitat range overlaps with relatively pristine areas primarily impacted by natural disturbances, such as wildfire. Climate-driven habitat change is a key concern for the conservation of boreal-dependent species, especially as forests shift away from the coniferous trees caribou rely on. For example, a recent study by Laurier Associate Professor Jennifer Baltzer found that increasing fire activity due to climate change is causing black spruce to lose dominance in the boreal forest.
For the first time, Stewart and Micheletti have combined data on forest composition and wildfire patterns with existing models for caribou population change and habitat selection to produce comprehensive, area-specific forecasts.
"These maps can help inform the federal and territorial governments as they develop range management plans for boreal caribou, identifying whether certain areas need to be protected and where to reduce the impacts of potential new roads or mining," said Stewart. "We need to place protected areas in locations where there is good habitat today, and also consider where there might be good habitat tomorrow. These forecasts can help us transition from static conservation decisions to more dynamic decisions by repeatedly updating our knowledge every couple of years."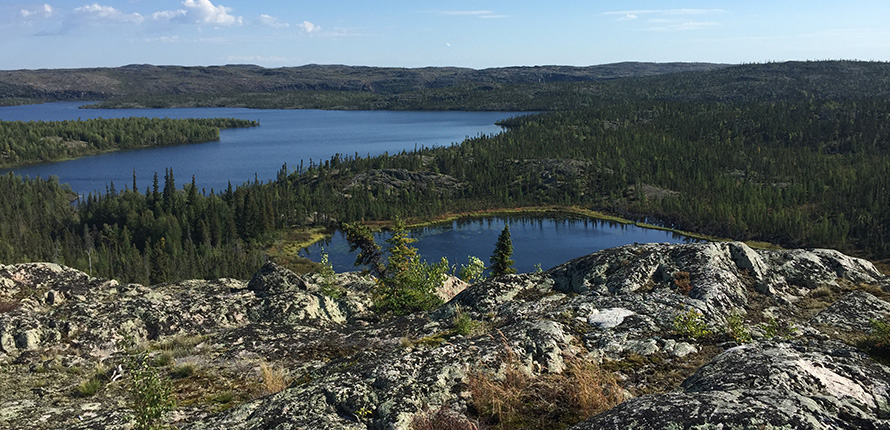 An example of the boreal forest ecosystem: a mix of forested landscape and low-lying peatland areas with conifer and deciduous trees. (Photo credit: Laura Stewart)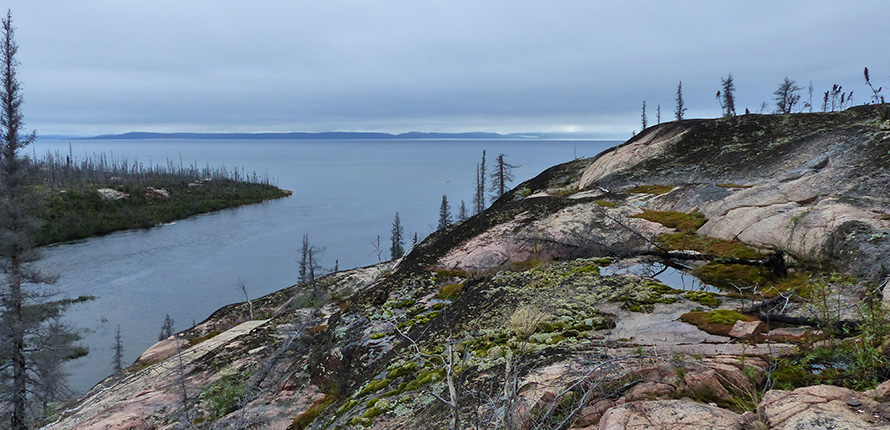 A northern forest after a wildfire, the primary natural disturbance system of the boreal forest. Laurier research shows wildfires in the North will increase in frequency and size with climate change. (Photo credit: Laura Stewart)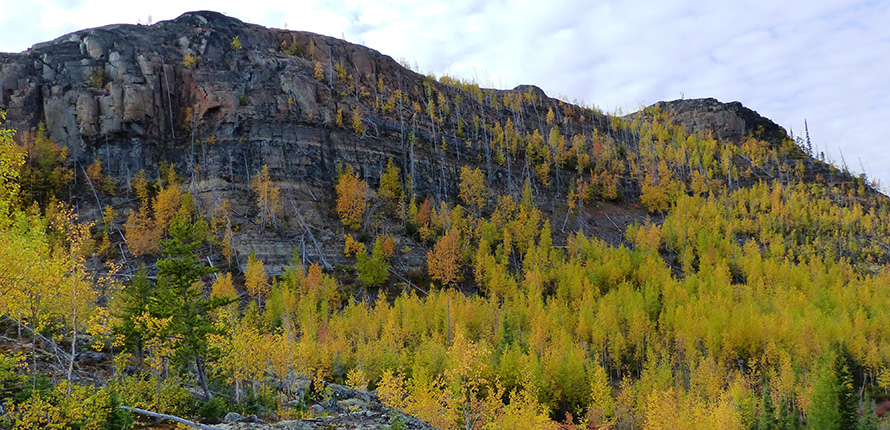 A section of new aspen trees growing following a wildfire, which research predicts will become an increasingly common across the Northwest Territories. Aspen forests are not ideal habitats for caribou. (Photo credit: Laura Stewart)
Laurier has a longtime research partnership with the Government of the Northwest Territories and Stewart is part of the Northwest Territories Biodiversity Monitoring Program.
Stewart will also share her research results with northern Indigenous communities for whom caribou is a staple food and source of clothing and culture.
"Understanding where and how many caribou there may be in the future has important cultural and socioeconomic implications for the people who have been relying on them for centuries," said Stewart. "There are also impacts on northern food security. We subsidize food to go up to these communities. If local people are unable to rely on country food for at least part of their diets, then we have to send more food. So in addition to conserving traditions and ways of life, there are economic impacts for Canadians more broadly if these natural resources are not available to local peoples."
Stewart and her colleagues are bulding on these research results to produce climate-sensitive forecasts for caribou throughout Canada's western boreal forest, as well as a range of other species. These results are available online, where they will continue to be updated over time.