In a landscape as expansive and remote as the Northwest Territories, capturing a clear understanding of the local wildlife is an onerous task. Governments throughout the territory have struggled to make data-driven decisions as they strive to protect biodiversity.
Through the power of technology and collaboration, that is about to change. A network of academics and federal, territorial and Indigenous government partners have teamed up with Wilfrid Laurier University researchers to document the occurrence of NWT wildlife across an unprecedentedly large area of the territory.
Partners in the Northwest Territories Biodiversity Monitoring Program installed more than 1,000 inconspicuous, armoured cameras and audio recorders in and around protected areas throughout the territory to record the sounds and images of nature. Activated by sensors whenever animals walked by, the cameras collected millions of images of moose, bears and other species throughout the course of a year.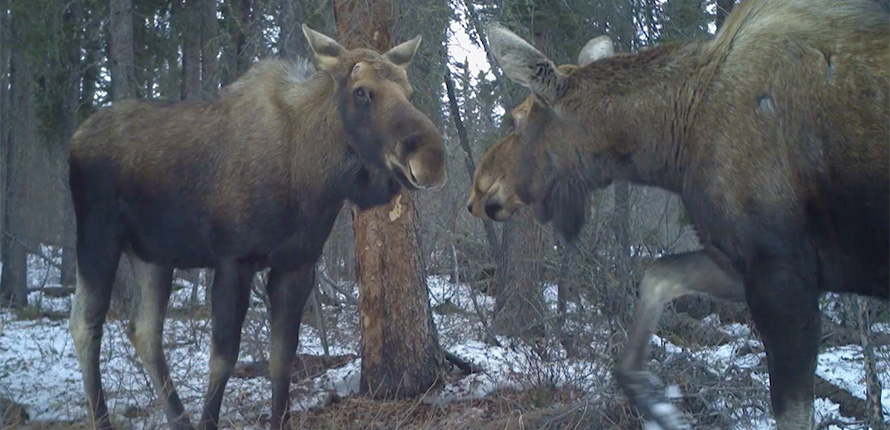 Photo credit: Ts'udé Nilįné Tuyeta
Eric Jolin, a Laurier M.Sc. student, is in the process of reviewing the images and he is impressed by what he has seen.
"I've been amazed by the sheer amount of animals that we've documented, especially species that don't often get captured by cameras like wolverines and lynx," he says. "Even at big, wide-open tundra sites, we saw whole herds of caribou and muskox walking by throughout the winter. We had predators like wolves and grizzlies coming up and investigating the cameras. Some are using them as scratching posts."
Jolin is working in Laurier's Wildlife Integration for Land use Decisions (WILD) Lab, led by Assistant Professor Frances Stewart, the Canada Research Chair in Northern Wildlife Biology. His research with the Biodiversity Monitoring Program is centred in Thaidene Nëné National Park Reserve, Canada's newest Indigenous-protected conservation area, located east of Yellowknife on Great Slave Lake. More than 300 individual monitoring stations were installed there to represent the spectrum of different habitats.
"It's a huge stretch of intact wilderness, which is something of a rarity in North America," says Jolin. "It's such a remote area and we know almost nothing about it in terms of species distribution and occurrence. We need that basic baseline data if we're going to monitor and track how things change, especially in the North where climate change is moving a lot faster than it is in other places."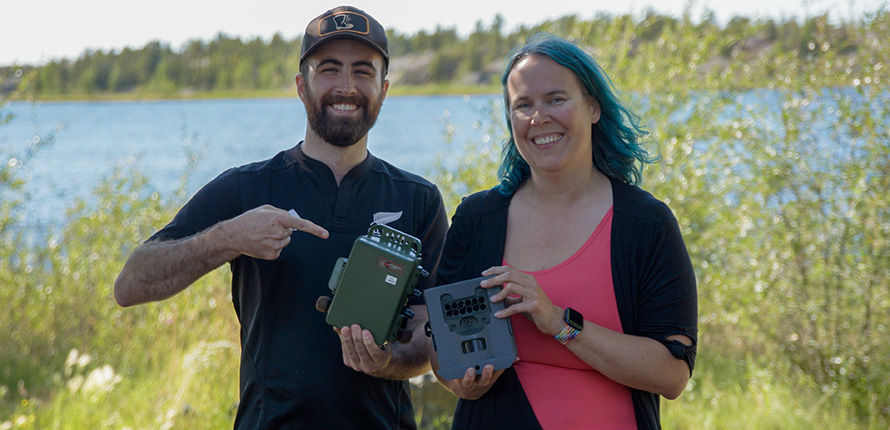 Eric Jolin and Claudia Haas holding a camera and audio recorder used in the wilderness.
In the coming months, Jolin will be sifting through vast amounts of images and audio files to delete the "false positives" – when sensors were activated by the wind or a tree branch – and upload the content to an online tagging platform for categorization. The resulting data will be used to estimate population density, age, sex and other demographic information, and to assess the health and geographic range of many wildlife species.
With so many stakeholders involved in the research program, such as the Canadian Wildlife Service, Parks Canada and local Indigenous communities, there are a wide variety of interests in the data, from managing bat and amphibian populations to tracking migratory birds.
"Our data will be useful for mapping species distributions, particularly of two culturally and economically important species: caribou and muskox," says Jolin. "Caribou have undergone this massive decline in population and the area they roam has contracted, while muskox have had a massive range expansion. Historically, they live in open tundra environments. Now they're found in forests south of the treeline."