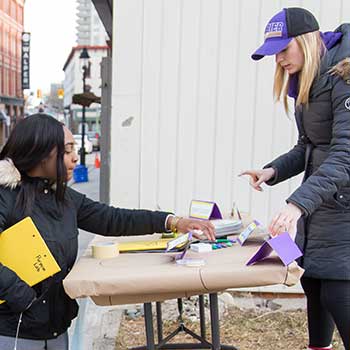 Social Justice and Community Engagement (MA)

 brantford
Print | PDF
Faculty of Liberal Arts  |  Faculty of Graduate and Postdoctoral Studies
Through an applied focus on a local scale, our Master of Arts (MA) program in Social Justice and Community Engagement (SJCE) is committed to scholarship informed by critical social/environmental justice theories and approaches. We foster your ability to investigate and understand root causes and to engage in the active promotion of social/environmental justice principles and the resolution of community-level injustices.
Learning Through Scholarship and Practice
Through coursework, a community placement and a major research project (MRP), you'll develop the skills that facilitate community capacity development, local-level innovation, sustainability and democratic renewal. Our program provides a firm grounding in the theories and methods of SJCE, practical skills gained through your community placement, and research capabilities through your capstone MRP.
Your community placement is an opportunity for you to apply theoretical ideas about social/environmental justice and in a community setting. The placement is founded on the dual pillars of providing a community service learning opportunity for you while ensuring that the community organization benefits from the placement. The 120-hour placement is expected to either inform your major research project or be directly tied to the project.
Program Options
This full-time program is normally completed in one year. In addition to coursework, you must complete a major research project and a social justice community placement.