Canadian Blood Services felt the love from Wilfrid Laurier University student-athletes on Valentine's Day as 24 new blood donors gave the gift of life during a blood drive in Waterloo.
Conor Gaudet, a member of Laurier's men's golf team and the Golden Hawk Council student club, organized the drive to raise awareness about the ways blood donors help those in need of life-changing – and life-saving – transfusions.
"My mom works as a nurse in a cancer care clinic, so I know how critical blood transfusions can be during a patient's course of treatment," says Gaudet, a second-year Business Administration student. "The Golden Hawk Council aims to give back to the greater Laurier community and I wanted to do my part. Organizing a blood drive felt like a way to make a positive impact."
The Golden Hawk Council is a community-outreach club for Laurier student-athletes at the Waterloo campus. Previous initiatives have included online support for Big Brothers Big Sisters, visiting patients at Waterloo-area hospitals, and food drives.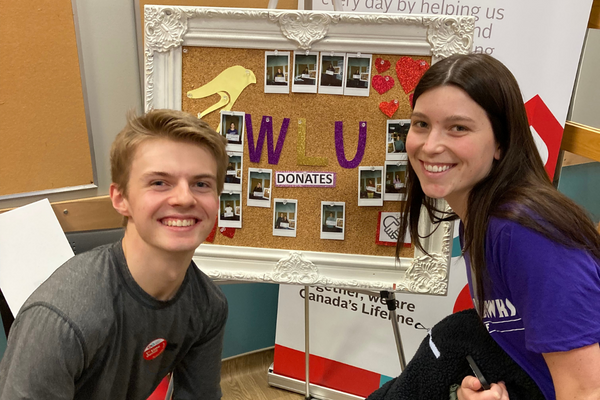 Photo: Conor Gaudet and Samantha Zulian stand in front of a corkboard of Laurier donor selfies.
"Conor did an excellent job organizing the Valentine's Day blood drive," says Samantha Zulian, Golden Hawk Council president and member of Laurier's women's golf team. "Giving blood is a great way to pay it forward. You never know what your future holds or if you or a loved one will need blood."
Gaudet began advertising the blood drive in mid-January, posting to social media and reaching out to other varsity teams via email.
"The response was amazing," says Gaudet. "As more and more student-athletes agreed to attend the blood drive, I had to keep emailing my contact at Canadian Blood Services to add additional appointment times. It was a good problem to have."
Laurier is a proud member of Canadian Blood Services' Partners for Life program. Each year, the university makes a pledge of blood donations. Last year, Laurier blood donors gave 531 units of blood, achieving 112% of the university's 2022 pledge goal.
"Laurier donors continue to give generously to help Canadians in need of blood and blood products," says Gina Leyva, community development manager with Canadian Blood Services. "It is especially heartwarming to see the energy and passion for giving back among Laurier student donors. They make a world of difference for those in need."
Laurier has pledged 475 donations in 2023. Faculty, staff, students, alumni and friends of the university can join Laurier's Partners for Life team.
In Waterloo, the Canadian Blood Services clinic is located at 94 Bridgeport Rd. E., a short distance from Laurier's Waterloo campus. Appointments can be booked online for the following times:
Monday to Thursday from 2 to 7 p.m.
Friday from 8 a.m. to noon.
Saturday from 8 a.m. to 1 p.m.
In Brantford, Canadian Blood Services will hold a mobile clinic on Tuesday, April 4 at the Woodman Community Centre, 491 Grey St. Transportation from Laurier's Brantford campus to the clinic will be provided at no charge. Contact Gina Leyva, community development manager at Canadian Blood Services, at gina.leyva@blood.ca to arrange transportation
It is safe to donate blood during the COVID-19 pandemic. Visit the Canadian Blood Services website for details about screening measures and cleaning practices. If you are unsure if you are eligible to donate, please visit the Canadian Blood Services eligibility page or call 1-888-2-DONATE to speak with a nurse.