Wilfrid Laurier University's Changemaker Campus designation has been renewed by Ashoka U for another three years. The designation, and its renewal, recognizes Laurier's commitment to the values and ideas of changemaking, which are clearly reflected in the university's Strategic Plan and institutional priorities.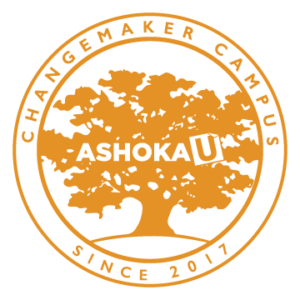 Ashoka U is an initiative of Ashoka, a global organization that supports social entrepreneurs and changemakers. The Changemaker Campus designation is a prestigious recognition given to universities that have a strong focus on social innovation and offer opportunities for students to develop the skills and mindset needed to address complex social challenges effectively.
"Wilfrid Laurier University has a rich history of developing leaders who put purpose and impact first in order to create positive change in our communities and beyond," says Laura Allan, Laurier's Ashoka Change Leader.
In November 2022, Allan was appointed Laurier's inaugural director of innovation and entrepreneurship, and serves as the operational lead in the development of Laurier's first Innovation and Entrepreneurship Strategy.
The Innovation and Entrepreneurship Strategy aspires to expand programming focused on purpose-driven and impact-focused innovation and entrepreneurship, research, and university, industry and community collaborations. As Laurier's faculty, staff and students engage in work that addresses pressing social, economic and environmental challenges, Allan will contribute to a cohesive vision of how this work can span disciplines and connect with sectors outside the university.
The Changemaker designation applies to all of Laurier's locations, including the Waterloo and Brantford campuses, and the Faculty of Social Work in Kitchener. 
With this renewal, Laurier remains part of a select network of higher education institutions that are driving positive social change and empowering students to become changemakers and graduate with the mindset, skills and sense of agency to create a better world.