Barbara Assiginaak, an assistant professor in Wilfrid Laurier University's Faculty of Music, and Rhoda E. Howard-Hassmann, a professor emeritus who taught at Laurier for 13 years, were appointed as members of the Order of Canada on June 30. Assiginaak was honoured for her diverse contributions to contemporary music as a classically trained musician rooted in Anishinaabe teachings, while Howard-Hassmann was recognized for her extensive scholarly contributions and steadfast commitment to the advancement of international human rights.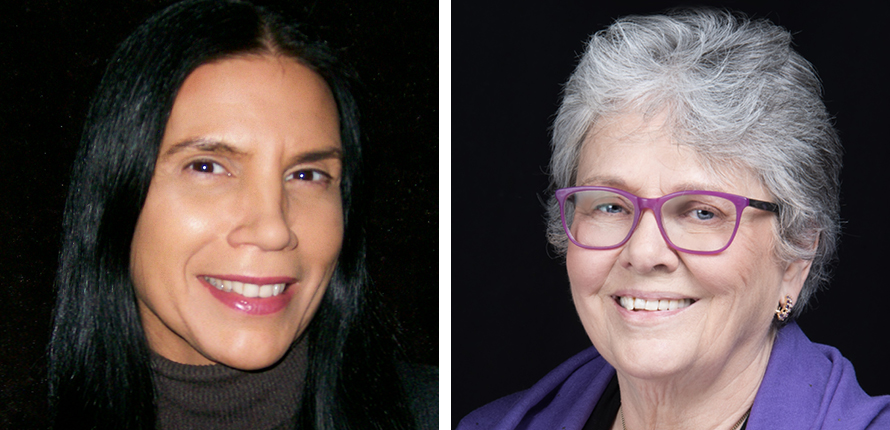 "This is an outstanding and well-deserved recognition for both Professors Assiginaak and Howard-Hassmann," said Laurier President and Vice-Chancellor Deborah MacLatchy. "Their scholarship and contributions of knowledge in their respective fields have enriched our society and we are very proud to count them among our ranks at Laurier."
The Order of Canada is one of Canada's highest civilian honours, recognizing outstanding achievement, dedication to community and service to the nation. Appointments are made by the governor general on the recommendation of the Advisory Council for the Order of Canada. 
Assiginaak teaches music composition at Laurier. Rooted in the Anishinaabe aural/oral traditions of singing, drumming and the pipigwan/bbigon (cedar flute), she is also classically trained in piano and other European instruments, Western music theory and composition technique. Assiginaak studied music composition at the Royal Conservatory of Music's Glenn Gould School at the University of Toronto, the University of Music and Performing Arts in Germany and Centre Acanthes in France.
Assiginaak's teaching at Laurier draws on decades of work as a composer and performer alongside orchestras, choreographers, visual artists, and opera, theatre and film directors. She primarily collaborates with fellow Indigenous artists, educators, scholars, community leaders and Elders. Assiginaak is currently leading a working group for the IDEA (Inclusion, Diversity, Equity and Accessibility) initiative as a board member of the Kitchener-Waterloo Symphony. 
Howard-Hassmann worked at Laurier from 2003 to 2016 in the departments of Global Studies and Political Science, as well as the Balsillie School of International Affairs before retiring in 2017. During her time at Laurier, she was the Canada Research Chair in International Human Rights and published four single-authored books: Reparations to Africa, State Food Crimes, Can Globalization Promote Human Rights? and In Defense of Universal Human Rights. Howard-Hassmann also published three co-edited volumes and numerous other scholarly works. Her research interests included African studies, Canadian foreign and refugee policy, women's studies, human security, political apologies and reparative justice.
Prior to her tenure at Laurier, Howard-Hassmann worked at McMaster University for 27 years. She conducted doctoral research in Ghana in the 1970s for her book, Colonialism and Underdevelopment in Ghana, which was reissued in 2023. She was a visiting scholar at several institutions in South Africa, the US, the Netherlands and Sweden.
Howard-Hassmann was appointed a Fellow of the Royal Society of Canada (RSC) in 1993. In 2013, RSC awarded her the Sir John William Dawson Medal for Interdisciplinary Research. She was also named a Distinguished Scholar of Human Rights by the human rights sections of both the American Political Science Association and the International Studies Association.