Sevval Cinar entered her third year at Wilfrid Laurier University with the goal of completing her minor in Psychology. During the COVID-19 pandemic, her research about a child's ability to recognize facial expressions in one of her classes took her on a path that led to a research award and the basis of her master's thesis.
Cinar enrolled in Introduction to Developmental Psychology: Infancy and Childhood (PS275), a Community Service-Learning (CSL) course that allows students to complete weekly placements with children in elementary school classrooms. CSL courses integrate service in the community with academic study. COVID-19 made that difficult, which meant a vital part of the course needed to be altered.
"During COVID-19, when students were not able to go out in the community on weekly placements, Associate Professor Danielle Law and I designed a remote project where students instead created activity plans from home," says Sara Darling, Community Service-Learning coordinator at Laurier's Brantford campus. "These activity plans were based on the Ontario Ministry of Education's curriculum and collated into a resource book for teachers at our partnering schools. This project allowed students to apply course learnings in a real-world context and contribute to the community in a meaningful way when in person placements were not an option."
Cinar credits Law and Darling for their help and understanding during a time when community placements were not possible during the pandemic.
"They were very transparent with the course and recognized that many students took the class for the CSL component," says Cinar. "I think they did a great job navigating everything to the online platform and still allowed students to help out within the community, even with everything going on."
CSL courses allow students to incorporate course learnings in community placements or projects developed with community partnered organizations, while providing meaningful hands-on experiences for students.
"Not only do students get the opportunity to see how theory and concepts function in the 'real world,' but they get to build relationships and connection with community partners they work with," says Law. "Students also get to contribute meaningfully to the community, which has positive implications in community engagement, learning, mental health and wellbeing, sense of purpose and more."
Course to research
Cinar's time during the CSL component of the course lead to her research on a child's ability to recognize facial expressions and how barriers, such as masks, had an impact on a child's ability to interpret other people's emotions. Cinar faced her own challenges, as there was a lack of previous studies done on the topic, but her passion, dedication and hard work paid off, landing her an Academic, Creative and Engaged Research Showcase (ACERS) award. The topic also became the basis for her Social Sciences and Humanities Research Council-funded master's thesis.
Cinar is currently in the final year of the Developmental Psychology master's program at Laurier, continues to study children's facial expressions and is a teaching and research assistant for Law. Cinar credits Law's enthusiasm and caring demeanor for playing a big role in getting her to where she is today.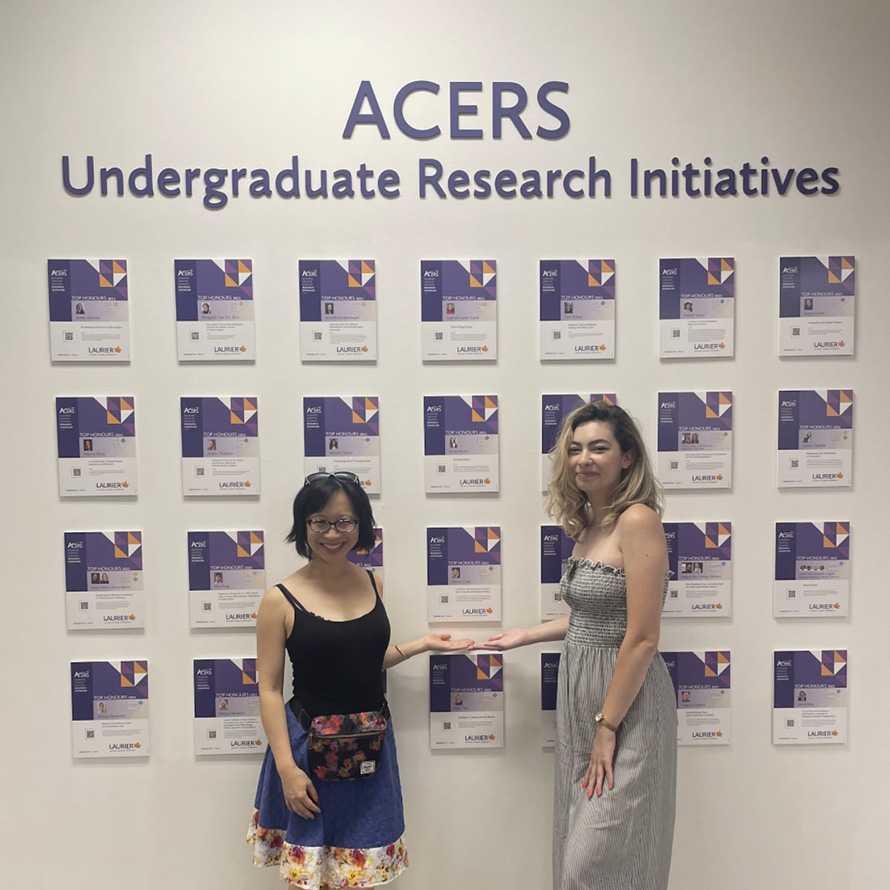 Despite the challenges of the pandemic, Cinar made the most of her undergraduate studies. When classes moved online, the Waterloo campus student was able to enrol in Introduction to Developmental Psychology: Infancy and Childhood, a course originally designed for in-person attendance in Brantford. Cinar sees her academic journey as a silver lining amidst the pandemic and acknowledges that every step was vital in finding success.
"My whole journey is like a domino effect, and it all started with that class with Danielle," says Cinar. "I wouldn't have been able to take the Brantford class or meet Danielle if COVID didn't happen, so having things fall the way they did just worked out. I don't know if I would be in the position I'm in today without everything aligning the way it did."
On top of being a teaching and research assistant and master's student, Cinar is also the community connections coordinator in the Child and Adolescent Research and Education (CARE) Lab led by Law. The CARE Lab focuses its studies on the social, emotional and cognitive development of children, youth and emerging adults. Law says Cinar deserves much credit for the lab's successes.
"Having worked with Sevval for so many years, I am grateful for her leadership and mentorship in her role with the CARE Lab," says Law. "The lab and the work we do would not have been possible without her dedication and insight, along with her integrity and kindness."