While living on campus is convenient, a residence experience at Wilfrid Laurier University offers much more than a quick commute to class.
Residence experiences provide students with opportunities for personal and academic growth. Programming offered through Laurier's various residence environments – including residence learning communities, learning clusters, residence curriculum and the first-year leadership program – aim to foster life skills, self-awareness, academic curiosity and success, and engagement in Laurier's diverse and inclusive community.
"Living in residence during your first year at Laurier really allows our students to grow and lean into who they are," says Melissa Pratt Morgan, associate director of residence education at Laurier. "Laurier's team of residence professionals are here to help students along the way so that they can successfully transition to university life."
Madison Haggith, a first-year student in Laurier's Business Administration program, says living in a residence learning community for business and economics students has allowed her to make friends in her program. In addition to building programming, students living in learning communities have access to additional program-specific academic and social events.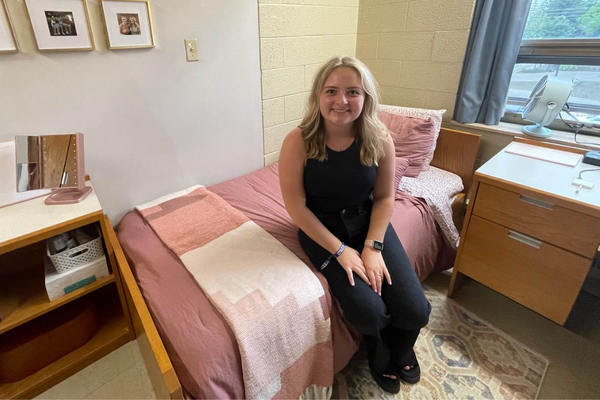 Photo: Madison Haggith in her residence room at Laurier's Waterloo campus.
"Meeting like-minded people was really important to me, and I've been able to do that living in a learning cluster," says Haggith. "My residence community is so welcoming, which is why I joined my house council. I want others to feel welcome, too."
Part of the First-Year Leadership Program, house council members serve as a planning and management body for social events and activities in each Laurier residence. More than 300 leadership opportunities are available to Laurier students living in residence and off campus to engage in university life.
Paris Snake, a first-year Social Work student at Laurier's Brantford campus, is also involved with her residence building's house council. Like Haggith, Snake wanted to make friends and "break out of her shell" at Laurier.
"I was really shy before coming to Laurier, so I knew that living in residence would be a great way to meet people and get involved," says Snake. "I feel really comfortable here, and living with other social work students has helped me academically."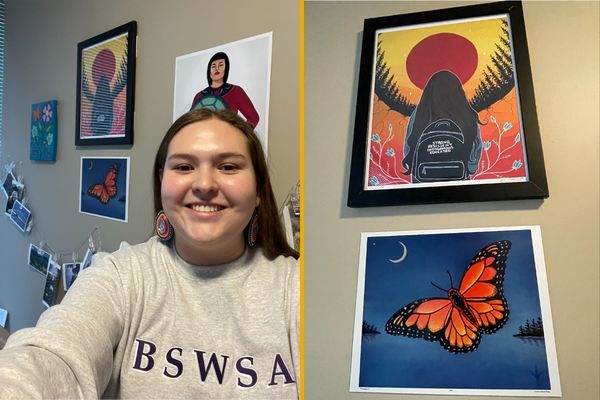 Photo: Paris Snake and artwork displayed in her room at Laurier's Brantford campus.
In addition to social programming. Laurier's residence team works closely with academic supports units to ensure students living in residence adapt successfully to academic life.
First-year peer academic coaches — a group of successful, upper-year students — are assigned to each residence and can assist students to create a study schedule, develop note-taking methods and learn effective study strategies, among other things. Laurier's academic success units, including academic advising and study skill and course support, work closely with residence staff to ensure student-residents have access to the support and resources they need.
"Living in residence has motivated me to do well in my courses," says Snake. "The academic support staff are so helpful when they come in for workshops or talks. It's just a great, supportive community here."
Residence dons and residence education advisors also play a lead role in supporting student well-being and success while living in residence. Upper-year students who reflect Laurier's core values, dons are akin to live-in mentors for students in residence. Residence education advisors implement and support the goals of the first-year residence curriculum to ensure students successfully transition to university life.
Dons and residence education advisors are highly trained in all aspects of student life, including leadership, community development, ethics, crisis response, and equity, diversity and inclusion. Each term, dons connect with students one-on-one to talk about well-being, academics, and university life.
"My don is amazing," says Haggith. "She is really focused on making sure everyone has a smooth transition and has someone to go to. She has an open-door policy and is there for us any time we need her."
While residence programming supports students' transition into university, it also prepares them for life after their first year.
"The residence experience is about growth and self-discovery," says Pratt Morgan. "A residence experience fosters so many life skills that set students up for success during the rest of their university career and their lives. We are really excited to be part of student growth and development."
Laurier guarantees residence to all undergraduate students attending a postsecondary institution for the first time. To be eligible for the residence guarantee, applications must be received by June 1, 2023, at 11:59 p.m. along with a non-refundable deposit of $600.
More information about residence life at Laurier, including room styles, applicant types and fees, can be found online.