There are many theories about why Dolly Parton's popularity has transcended generations over her nearly 60-year music career, but now Wilfrid Laurier University researchers are weighing in with some data. In their new paper "'I may look fake but I'm real where it counts:' Positivity and authenticity in the songs of Dolly Parton," Judy Eaton, Danielle Law and Avnee Sharma propose that Parton's appeal can be linked to the persistent positivity of her song lyrics.
The research team found that, compared to country and pop songs written by her contemporaries, the language Parton uses in her songs has been consistently optimistic. Though her songwriting doesn't shy away from serious subject matters such as teen pregnancy and mental illness, Parton's ability to shed a positive light on even the darkest subjects sets her apart.
"Existing research suggests pop music lyrics are becoming increasingly less positive," says Eaton, a professor of Psychology. "When we looked for positive words such as 'love' and 'happiness' in song lyrics, there are fewer now than ever before. When you compare this downward trend of positivity with upward trends in social markers, like rates of depression, some scholars suggest that song lyrics reflect the feelings of society over time."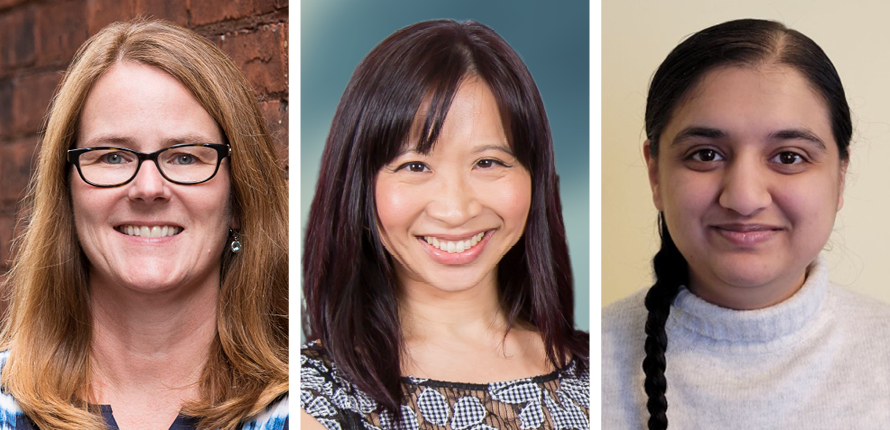 Eaton, Law, Sharma
In order to capture a holistic view of Parton's musical catalogue, Sharma, a PhD student in Developmental Psychology, compiled 247 songs written and performed solely by Parton between 1967 and 2020. Comparison samples were created based on the annual top 10 country and pop songs on the Billboard music charts for the same time period.
Analyzing hundreds of songs may seem daunting, but the use of Linguistic Inquiry and Word Count (LIWC) software simplified the process and allowed the team to sift through the songs quickly. By categorizing groups of words with similar meanings, the software was able to analyze lyrics and determine if there had been changes in emotional tone throughout Parton's years as an artist. The study is the first of its kind to use linguistic analysis to examine song lyrics through a positive psychological lens.
"Our main goal was to look throughout Parton's timeline as an artist and identify trends and changes in positivity," says Sharma.
While previous case studies of other musical icons such as Bob Dylan and the Beatles indicate that their positive musical outlook diminished over time, the Laurier team found that Parton's has never faltered over the course of her career.
"As time passes, artists' lyrics typically increase in negativity and decrease in positivity, but Dolly has not followed this same trend," says Eaton. "The way she writes songs and the emotional tone of the language she uses have always been consistent."
Eaton sees this as a major contributor to Parton's lasting status as a pop culture icon.
"Her positivity brings people together, which helps to explain why most comments and opinions about her are very positive, despite the divisive nature of modern society."