While many Laurier Music grads dream of becoming musical director of an orchestra, Dr. Yuchen Dai (BMus '19, Gold Medalist) became a different type of MD. Having recently completed medical school at the University of Ottawa and in the midst of his Internal Medicine residency at the University of Toronto, Dai still relies on the skills he built during his music degree as a violinist in the World Doctors Orchestra.
The World Doctors Orchestra, a non-profit organization founded by German cardiologist Dr. Stefan Willich, brings physician musicians from around the world to play together. Four times a year, around 100 physicians from numerous countries meet for several days of intensive rehearsals. They then exchange their white coats for evening attire and perform charity concerts, with proceeds benefiting selected medical aid organizations.
In May of 2023, Dai traveled to Romania with the World Doctors Orchestra and performed with some of the best in both of his chosen fields, including doctors from across Europe, North America and Asia, as well as renowned Romanian violinist Alexandru Tomescu. The orchestra played to sold out crowds in Cluj and Bucharest, with proceeds from the performances going to the Telemedicine in Epilepsy project.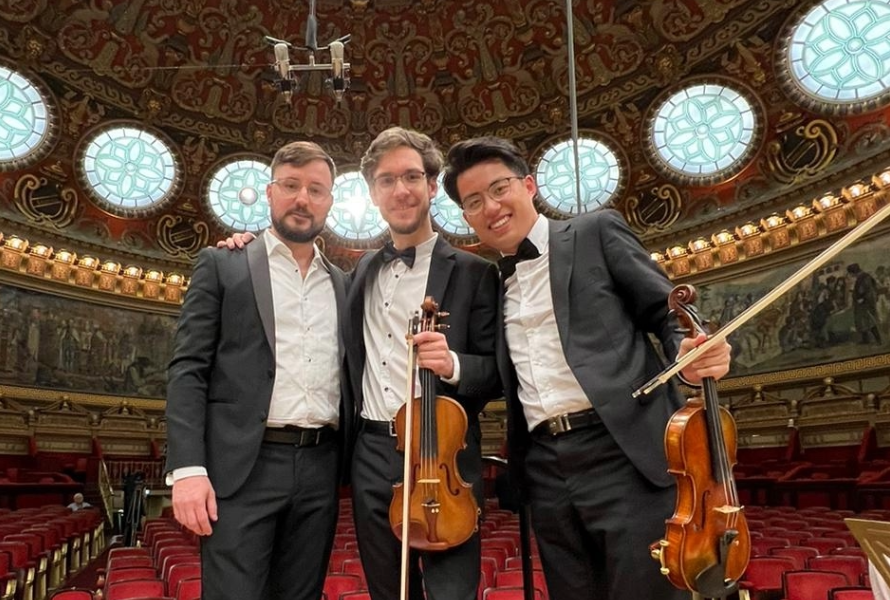 Dai started playing violin at six years old, 'which is quite old for violinists', he says with a laugh. He originally wanted to play the piano, but his parents, who were recent immigrants finding their footing in Canada, suggested something more portable.
Excelling in both the arts and science, Dai chose to attend Laurier partly because the university's double-degree pathway allowed him to pursue both of his passions at once.
"One of the reasons I chose Laurier was that they were very accommodating in allowing me to do a dual degree in Music (Violin Performance) and Science (Biology)," says Dai. "I would meet with the academic advisors every year to plan out everything and it wasn't always easy, but we made it work. I was always interested in the sciences but didn't go to Laurier knowing I wanted to attend medical school."
Dai took full advantage of Laurier's intersession terms to ensure he could earn all of his prerequisites for medical school and planned to apply early at the end of his third year, ending his time in the music program.
He then talked with Jerzy Kaplanek, current acting associate dean of the Faculty of Music, who was Dai's violin professor and mentor. Kaplanek felt that Dai would miss out on pivotal aspects of the program if he left early to attend medical school.
"To graduate in performance at the Faculty of Music, one needs to present a final recital during the last term," Kaplanek recalls telling Dai at the time. "I said, 'Look, you're going to be a doctor, but you love music so much. Staying in the music program is a great opportunity for you to learn our repertoire and perform it at your graduation recital. It will give you that much more music education and violin technique.'"
Dai took the advice to heart and deferred his application to medical school until his fourth year so he could complete his music degree.
"I wouldn't change any of it," Dai says. "I got to play so many concerts and share wonderful musical moments with friends and family, including my graduation recital, which is something very special. I'm very happy that I studied music because once you start medicine, you have less and less free time to keep up with your personal interests."
Dai has continued playing music while navigating the rigours of a career in medicine. Music even found its way into his research interests. Dai recently co-presented a paper on the effects of music in the operating room and examined its effect on both patients and surgical staff in the perioperative environment. He can also frequently be found playing his violin for patients in the hospital.
"Laurier ingrained in me a curiosity to always improve and not be complacent with myself, and that's something you absolutely need in medicine – we count on each other to be excellent when taking care of our patients," says Dai.
Dai says he was incredibly proud to represent Laurier and Canada as a member of the World Doctors Orchestra during his time in Romania. While in Bucharest, Dai and his colleagues performed at the Romanian Atheneum. Built in 1888, the grand, neoclassical concert hall is a significant Romanian cultural landmark and a European historical site. Dai was struck by the beauty of the room, as well as the sound.
"It's a very intimate venue actually, not much bigger than Laurier's recital hall," says Dai. "The acoustics are absolutely amazing, especially for a domed concert hall, and because it's a smaller venue you really play within yourself as an ensemble and don't need to overplay."
As he moves forward in his medical career, Dai says he will continue to remain in touch with his teachers and classmates from the Faculty of Music, especially Kaplanek, whose advice and mentorship had a profound impact on Dai's passion for music.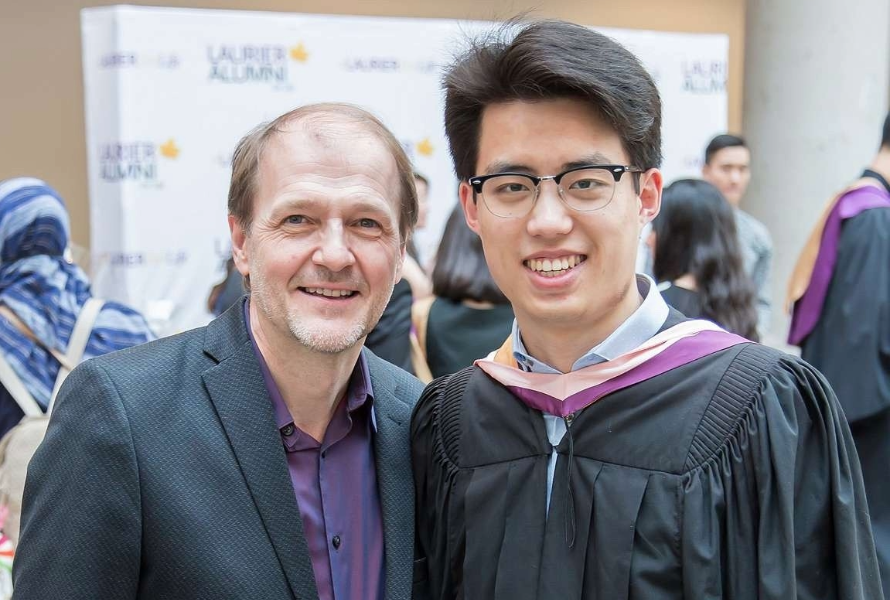 "I had a mentor in Professor Kaplanek and I am very grateful for all of the support I had from him and Laurier," says Dai. "He was always very supportive, generous with his time, and ingrained this idea of 'whatever you do, just be really excellent at it.'"