Being part of a campus community that supports his faith and spiritual well-being has made a positive impact on Wilfrid Laurier University student Abdullah Qamaruzzaman.
Qamaruzzaman, a fourth-year business student in the Lazaridis School of Business and Economics, is the current president of the Muslim Students' Association (MSA) at Laurier's Waterloo campus. With support from the Centre for Student Equity, Diversity and Inclusion, the MSA is creating a campus community where Muslim students can thrive.
Below, Qamaruzzaman discusses how the MSA supports a community that cares for all.
How does the Muslim Students' Association support and engage Muslim students at Laurier's Waterloo campus?
The MSA supports students in many ways, primarily by working with the university to provide prayer spaces. Prayer is a central part of the Muslim faith. Each day, we pray five times. On Fridays, we come together as a congregation for a sermon and prayer.
The MSA also plans social events for Muslim students to get together and hang out. During Orientation Week, we hosted events like Chai and Chill, a make-your-own bubble tea social, and campus tours with stops at the multi-faith prayer spaces. We recently held a games night and are planning some events to help students relax during the final exam period.
Building religious knowledge and creating awareness are other initiatives the MSA supports. We host short lectures in the prayer rooms each week, offer Quaran circles to help readers with scripture knowledge and Arabic-language pronunciation skills, and set up a booth in the Concourse on Thursday afternoons for anyone who wants to learn more about Islam or the MSA.
Photo: MSA members boothing in the Concourse.
How did you become involved with the MSA?
During my first year at Laurier, I was only involved with the MSA on Fridays to attend prayers. On one Friday, a member of the student executive team gave a sermon about the role of mothers in Islam, and it really resonated with me. In Islam, worshipping God and treating your parents go hand in hand. You can't worship God and treat your parents poorly. My mother has sacrificed a lot for me throughout her entire life; she is everything to me. That sermon made me want to be part of the MSA with the hope that one day I may share a message that could positively influence another student's life. I joined the MSA's student executive team in my second year and have been part of it since.
Why is it important to have faith-based support for students at Laurier?
Having a community at Laurier that I can relate to has made such a difference to me. As Muslims, we believe that we are all a part of one ummah, which refers to the concept of one nation or community. We are all one body, one community. We want to be together and to help one another, so without a sense of community provided by the MSA, we can't do that.
I had a hard time deciding which university to attend, but when I heard that inspiring sermon, I took it as a sign that I made the right choice. Staying connected to my faith throughout my Laurier experiences has helped me a lot.
The MSA supports many charitable initiatives. Why is that a priority for the association?
As Muslims, we believe in giving to those in need because we are all God's creations, regardless of wealth, social status or circumstance. A big part of our faith is taking care of orphans and the less fortunate. The MSA has contributed to many charitable projects, and Laurier has supported us in doing so.
In September, we raised $3,700 for Alkhidmat Foundation Pakistan, a non-profit organization on the ground in Pakistan delivering humanitarian aid amid the flooding. During Ramadan, we organized a Grand Iftar — a formal dinner event with a guest speaker held in the Senate and Board Chamber. Over 130 students purchased tickets to attend, which contributed to a grand total of $11,500 raised for Penny Appeal Canada, a charitable organization that assists children and families in need all over the world. At the end of Ramadan this year, the MSA donated $30,000 to support orphans in need for an entire year.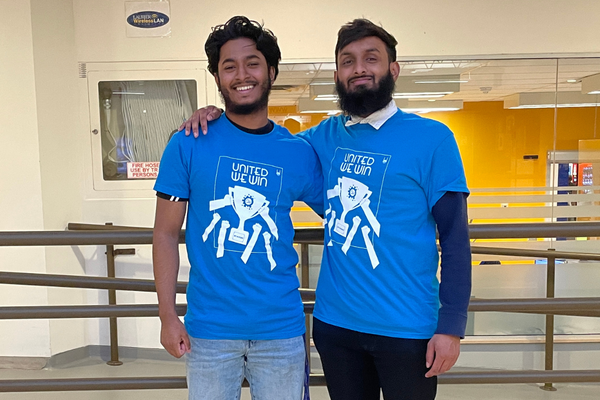 Photo: Abdullah Qamaruzzaman (right) with a member of the MSA.
During the week of Oct. 24, 2022, we fundraised to support Charity Week, an international campaign organized by Islamic Relief Canada, which assists orphans and children around the world. Again, the generosity of the Muslim community was evident as we raised $5,400.
What events is the MSA planning for the rest of the 2022-23 academic year?
The MSA is working on a few different social and religious events, including Ramadan 2023. In November, we hope to offer programming focused on skill-building and career planning. It's important for Muslim students to see themselves represented in various industries. As a former president of the Lazaradis Consulting Club, I hope to be able to arrange for some consultants who practice Islam to come to Laurier and speak to students about careers in this field. I want Muslim students to know that they can excel and have high-impact careers.
Anyone interested in our events can check out the Muslim Students' Association Instagram account.