As the regional health and wellness coordinator for Dehcho First Nations, a regional Indigenous government in the Northwest Territories, Kristen Tanche has sought to create culturally relevant resources to help inform local health care. She believes that wellness is inherently connected to language, culture, land, family and physical health, and that those values should be reflected in the health-care options available to the Dehcho Dene people.
To assist in her efforts, Tanche partnered with Melody Morton Ninomiya, the Canada Research Chair in Community-Driven Knowledge Mobilization and Pathways to Wellness at Wilfrid Laurier University. Together with Ramona Pearson and Kathy Tsetso from Dehcho First Nations and Laurier alumna Nicole Burns, they captured the voices and health needs of the Dehcho Dene.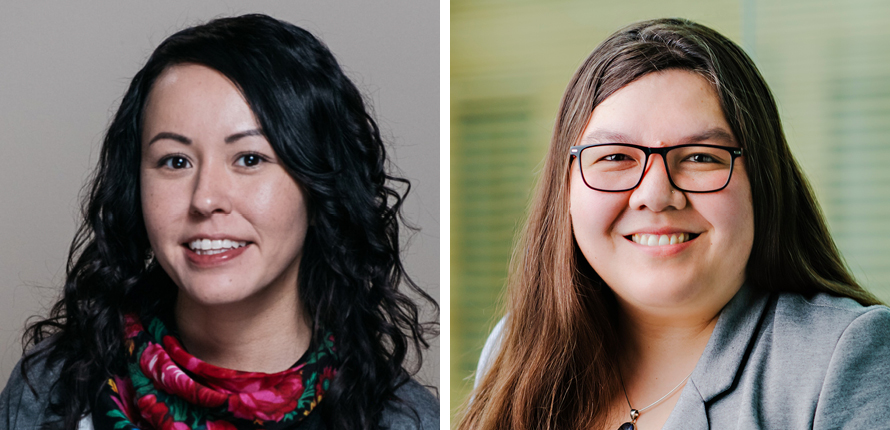 Tanche, Morton Ninomiya
The research team synthesized 20 years of reports, meeting summaries and other existing documents, and chronicled Dehcho Dene concepts and indicators of health and wellness. They highlighted six interconnected priorities for the Dehcho First Nations to achieve wellness and healing, including on-the-land activities, language revitalization, and a strong focus on Elders and youth.
Their overarching finding was that, historically, the Dehcho's belief system is rooted in Dene Ahthít'e, which means the ongoing relationship between Dene and the land. Being "healthy" means returning the mind, body, spirit and emotion to balance in the natural environment. This has become increasingly difficult in the context of colonialism, as the Dene struggle to live in accordance with their values and principles while being able to participate in the mainstream economy.
Tanche and Morton Ninomiya worked with Laurier students from the Interdisciplinary and Indigenous Pathways to Wellness Research Group to develop two reports, including one about effective health-care practices in rural Indigenous communities which addressed access to care, culturally appropriate care and building community capacity.
Inspired Research. REAL IMPACT.
Laurier researchers are collaborating with northern governments and communities to tackle urgent challenges in Canada's North.
Learn More
The research will inform Tanche's program planning moving forward, and she says her collaboration with Morton Ninomiya was an "amazing" experience.
"Melody has been very respectful," says Tanche. "She really took her lead from us. She didn't come and say, 'This is what I think you should research.' She asked, 'What are you looking for? How can we work together and how can we support this work?' It's been a very reciprocal relationship that I've really appreciated."
Tanche also enjoyed working with Laurier undergraduate students like Brianna Stefanon and Emily Wassmansdorf and giving them the opportunity to learn about Indigenous ways of being and the practice of consent.
"I often realized that I had made an assumption, where I should have been asking a question," says Wassmansdorf, currently in her third year of the Global Studies program. "Working with Kristen helped me realize that when working with a group or community that you are not a part of, you will do the greatest work by assuming nothing."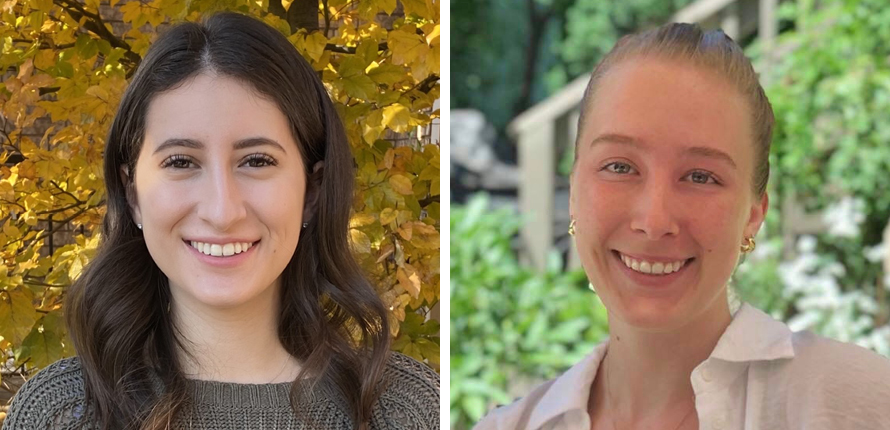 Stefanon, Wassmansdorf
"My research experience with Dehcho First Nations completely changed the way I perceive research and how I intend to contribute within any community I am part of," says Stefanon, who is studying Health Sciences. "It has taught me the importance of consent and adopting a holistic approach to research. I am always reminded to reflect on the experience and examine the approach through different perspectives. This has inspired me to pursue a career in public health, where I intend to expand Indigenous-led health programs and services through Indigenous partnerships."
Tanche advises that all academic-Indigenous partnerships should be reciprocal. There should always be a clear benefit for the community, such as capacity building, and scholars should be aware of time constraints and resource strain and find ways to fund the research. The community should ultimately have a say in how the work is presented.
Stefanon and Wassmansdorf have similar advice for their peers who may have opportunities to collaborate with Indigenous peoples.
"Ask questions with genuine interest and listen with intent," says Wassmansdorf. "Educate yourself on the community that you are working with, from how to correctly pronounce their names to learning their history and governance structure. Be curious and respectful, and always remember that what you are doing is to further their goals as they see them."