The Sustainability Office at Wilfrid Laurier University leads the integration of sustainability practices across the institution and, in doing so, creates experiential learning opportunities for students that prepare them to address the world's pressing environmental challenges.
"Experiential learning opportunities offered through the Sustainability Office provide a meaningful understanding of environmental responsibility through practical application," says Dan McGregor, outreach and programs coordinator in the Sustainability Office. "Engaging students allows them to adapt, create and evolve, challenging them to innovate for a greener future."
Below, Laurier students Isabella Festa-Bianchet, Dayna Minuskin and Sophie Papernick discuss what they have learned and the skills they have developed by participating in experiential learning opportunities offered through Laurier's Sustainability Office.
How did you become involved in programming provided by the Sustainability Office?
Isabella Festa-Bianchet (IFB): As students in the Lazaridis School of Business and Economics at Laurier, Dayna, Sophie and I teamed up to participate in the 2021 IKEA Sustainability Challenge, an annual competition that invites second-year business students to create solutions to real-world sustainability issues faced by IKEA Canada. Eric Meliton, who manages Laurier's Sustainability Office, served as one of the competition judges.
Our solution – which proposed the use of permeable pavement, rain gardens and bioswales in IKEA parking lots to better manage stormwater overflow and pollution filtration – won the competition. Eric saw potential for our idea to be developed and actioned at Laurier and offered his mentorship. We jumped on that opportunity as fast as we could.
What are some of the learning opportunities you have experienced through the Sustainability Office?
Sophie Papernick (SP): We participated in Rain It In, a competition sponsored by Laurier and the Town of Ajax in 2021, which challenges postsecondary students to develop innovative solutions for communities to mitigate the impacts of intense rainfall events. Throughout the competition, we researched sustainable infrastructure and technologies to refine the ideas we presented during the IKEA Sustainability Challenge.
We were the only business students competing in Rain It In, so we pitched the need for sustainability consultants to liaise with community partners on innovative solutions to stormwater management. There is an interesting intersection between sustainability and business, and we leveraged that throughout the competition. Our idea won second place, which was impressive considering our competitors were engineering and environmental science students focused on the development of new products and technologies. To us, placing in the top three solidified the need for business expertise in the development and implementation of sustainable infrastructure.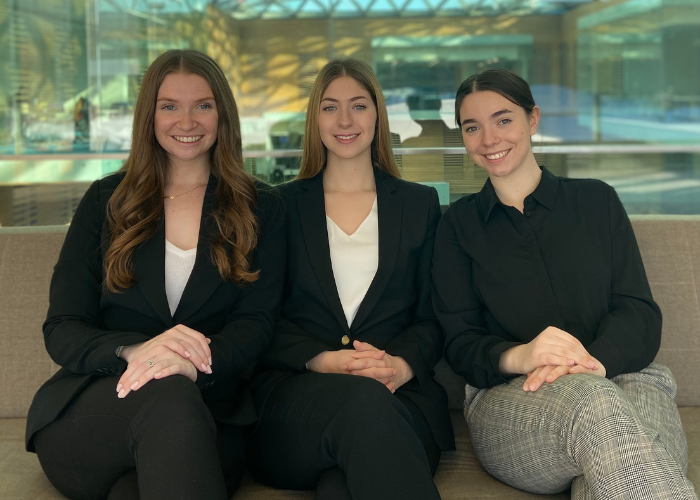 L-R: Dayna Minuskin, Isabella Festa-Bianchet, Sophie Papernick
Dayna Minuskin (DM): The Sustainability Office also offers the Sustainable Hawk Fund, which provides up to $30,000 per year in funding for Laurier faculty, staff and students to implement green initiatives on campus. We applied to the fund to bring our ideas for stormwater management – such as permeable pavement, rain gardens and bioswales – to life on Laurier's Waterloo campus.
We were thrilled to receive $5,000 in funding for our project. This will allow us to continue learning about sustainable infrastructures, consult with an engineer, obtain drawings and eventually plan a stormwater demonstration site on Laurier's Waterloo campus. The demonstration site will allow us to educate the Laurier community about sustainable infrastructure while researching the viability of permeable pavement, rain gardens and bioswales at Laurier in the long term. We are so excited to apply what we have learned so far to a real project, especially one that makes a positive impact at Laurier.
What skills have you developed through your involvement with Sustainability Office programs?
SP: Getting involved with the Sustainability Office has provided us with exposure to a whole new field of learning that we haven't yet experienced in our courses, because business students interested in sustainability declare a concentration in their fourth year. We are building confidence and expertise, enhancing public speaking skills and networking with like-minded students and professionals. Dayna and I attended the Canadian Water Summit in June with six other Laurier students, which was a great way to hear from industry professionals and connect personally with those actively working in water management fields.
It's been awesome to blend our business knowledge with our interest in sustainability. Our current environmental reality is scary and acting on ideas for positive impact is so important.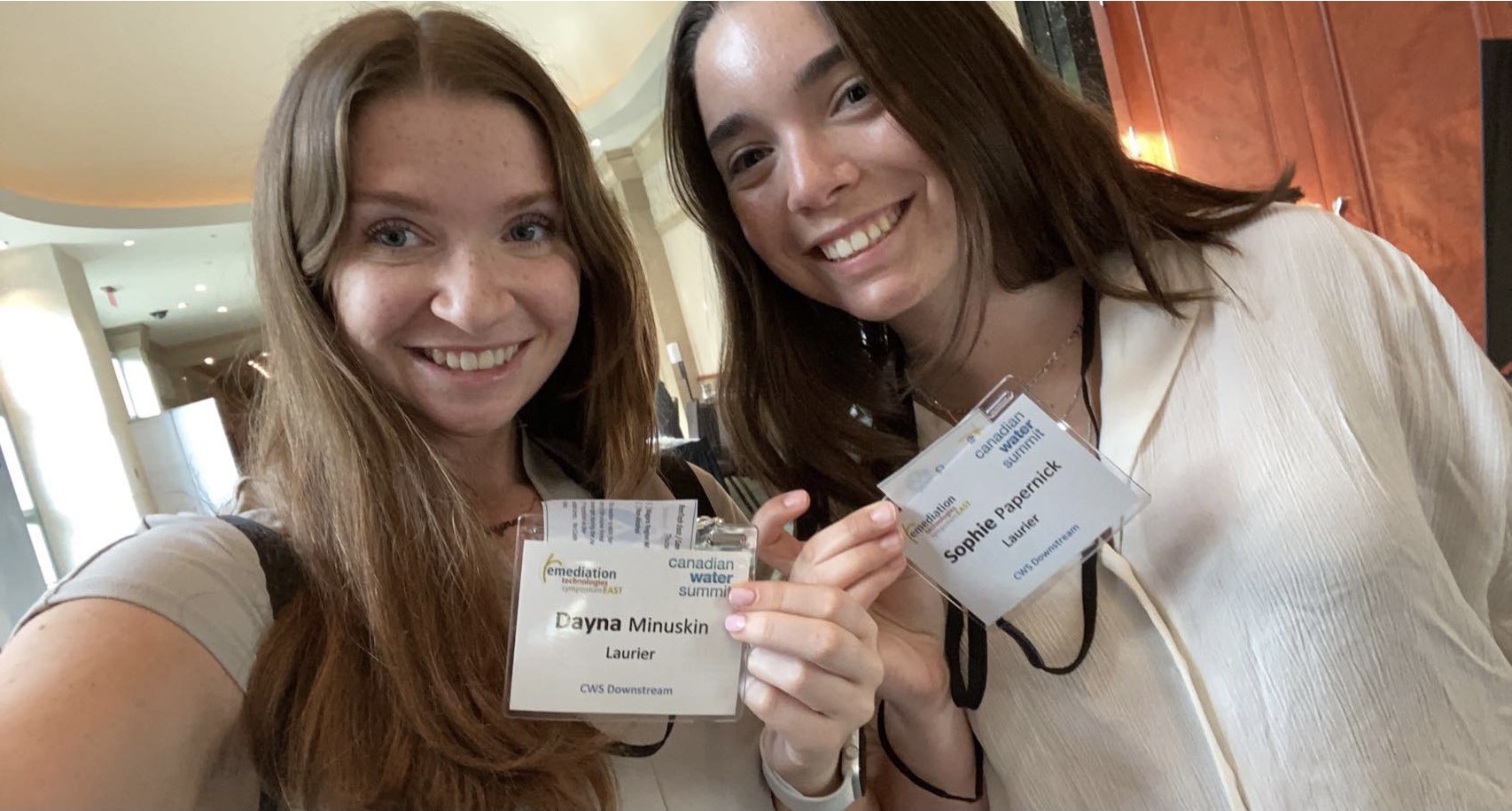 Laurier students Dayna Minuskin and Sophie Papernick at the Canadian Water Summit.
What advice do you have for Laurier students interested in green initiatives?
IFB: Connect with the Sustainability Office and get involved with what they do. Eric and his team are so friendly, and they are happy to help you nurture your ideas. There are also several student clubs at Laurier focused on sustainability and greener ways of being, including Enactus, the Renewable Energy Club and the EcoHawks clubs at the Waterloo and Brantford campuses, among others.
Learn more about experiential learning opportunities available through Laurier's Sustainability Office online or follow @LaurierGreen on Instagram, Facebook and Twitter.