While serving as the Indigenous student coordinator at Wilfrid Laurier University's Brantford campus, Margaret Neveau was revered for her extensive traditional knowledge. Now she is sharing that knowledge beyond Brantford in her new role as a multi-campus counsellor for Indigenous students.
Since accepting the position in January 2022, Neveau has been working with students to support their emotional and holistic wellness from an Indigenous worldview.
"A lot of students who seek out counselling come with similar issues. I look at them from a different perspective," says Neveau. "We do cultural teachings about what it might mean for the students and look at healing through a holistic cultural approach."
Neveau sees the importance of connecting with students and accepting them for who they are.
"The biggest factor is identity," she says. "We're seeing this with our young students; they grew up a little more removed from their culture."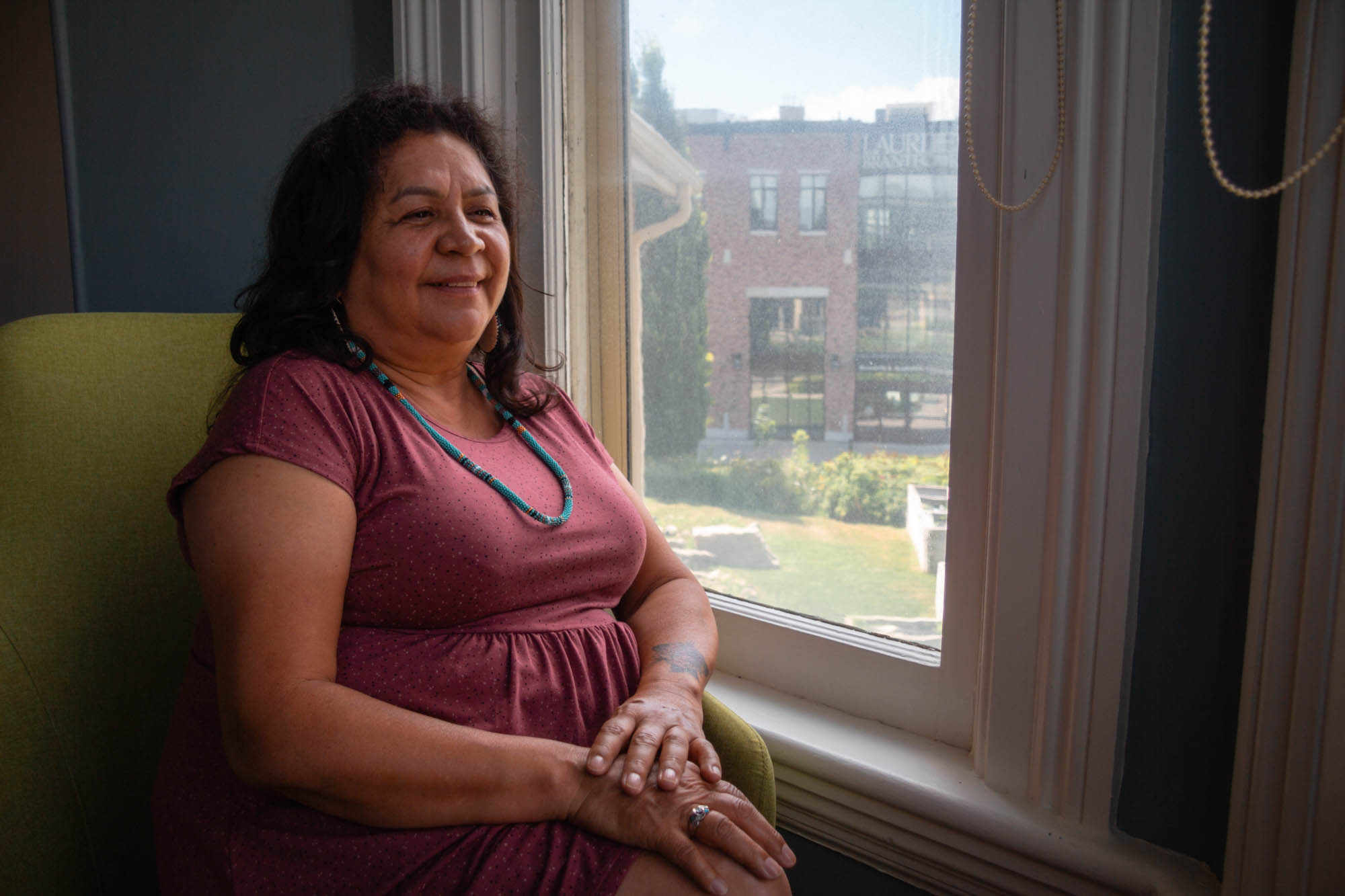 Connecting with culture
Neveau is Anishinaabekwe from Batchewana First Nation, located on the eastern shores of Lake Superior. She has been a ceremonialist and traditional knowledge keeper for over three decades.
"When I was younger, I was living a young person's life and thought, 'There's got to be more to life than this,'" she says. "I turned to sweat lodges and never looked back."
Neveau started doing her own healing work with elders that she met along the way and participated in many ceremonies. She points to her upbringing, where she lived a traditional lifestyle and had a reciprocal relationship with the land, and her father's encouragement that led to her studying plant medicine.
"I joined medicine walks and learned a lot along the way," says Neveau. "I eventually started my own medicine cabinet and I incorporate this knowledge into my teachings."
Starting in the fall semester, Neveau will once again offer Tea and Teachings, events where she makes medicinal teas, tells stories and teaches about the medicine wheel, plants and what they can be used for.
Neveau will also be conducting ceremonies for students throughout the year and will facilitate Laurier's elder-in-residence program. But the majority of her time will be spent working one-on-one with students.
Throughout the pandemic, the Indigenous Student Centres ran virtual programming for students, such as Taking Care of Our Spirit events, public lectures and virtual meetups, but Neveau says the pandemic made it more difficult for students to connect with the centres.
"There have been two years of students who haven't been able to physically connect with the Indigenous Student Centres, so we feel like we need to build our community back up," she says.
Neveau will be on the Waterloo campus three days a week and in Branford two days a week. Students can book time with her directly.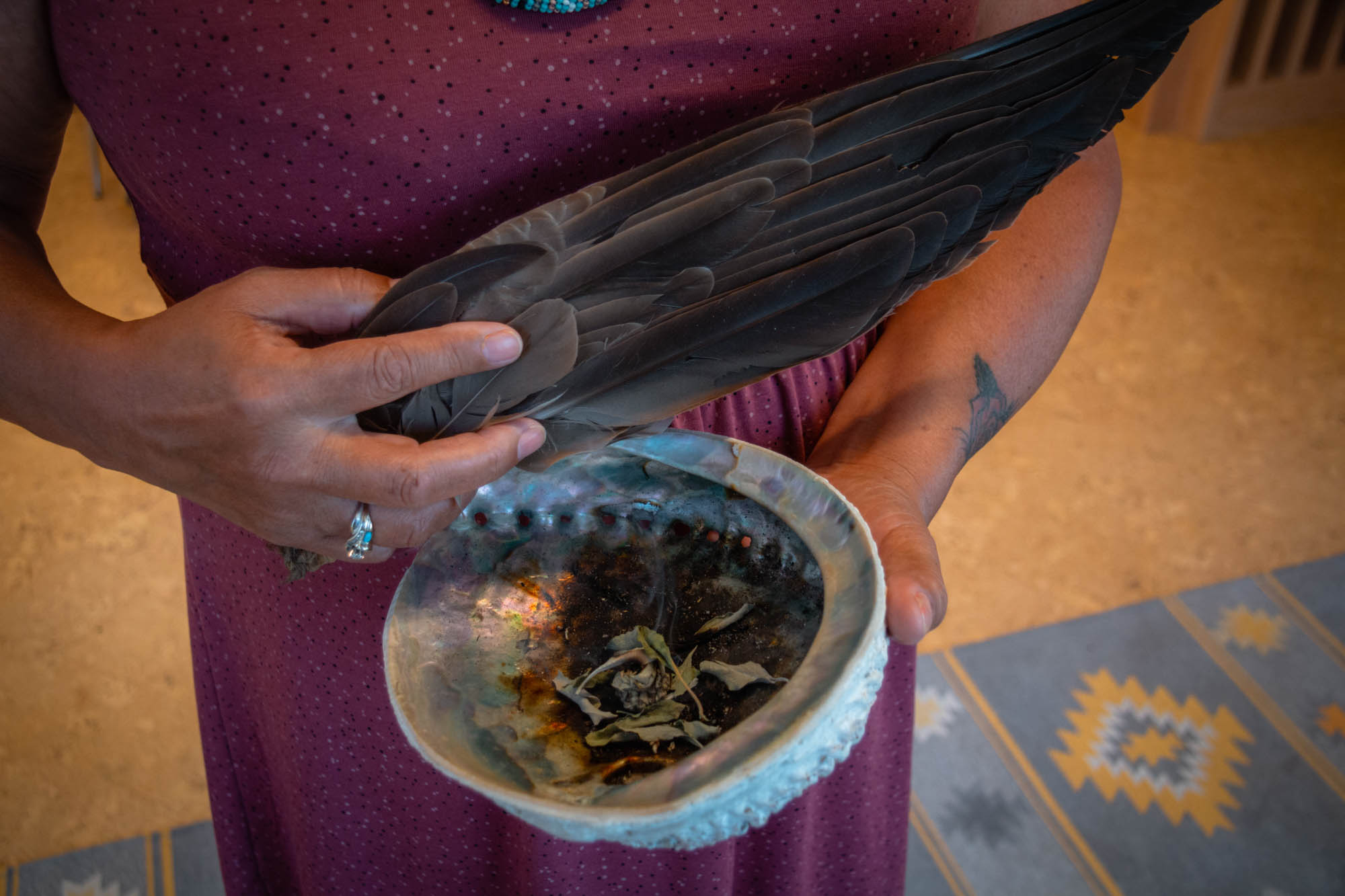 Passing on traditional knowledge
Neveau says that as a member of the Turtle Clan, it is her responsibility to teach and hold medicine knowledge.
"It's important to pass on this knowledge because it helps students with finding their identity, learning ceremony and their culture, and it validates their reciprocal relationship with the land," says Neveau. "What I've learned through spending a lot of time with mainstream counsellors is that I know all these practices, theories and models, but I just have a different understanding of them. I've taken a different avenue in learning how to counsel."
Sharing her knowledge has gone beyond political borders, too. Neveau met with a group of Indigenous women who were visiting from Columbia to share in their healing work around water and land rights.
Neaveau hopes that she can be a role model for students and teach them how to share traditional knowledge with future generations.
"When I'm giving teachings and sharing ceremonies, I say to students, 'I give this freely to you and it's yours. Use it as a practice and create a deeper understanding with it.'"