The term "sexual misconduct" is commonly used to describe a wide range of sexual offences. But what does it really mean?
Stacey Hannem, a professor of Criminology at Wilfrid Laurier University, sought to answer that question in her recent book Defining Sexual Misconduct: Power, Media, and #MeToo. She and her co-author, Christopher J. Schneider, examined 40 years' worth of newspaper reporting to track the meaning of sexual misconduct across a shifting social landscape.
In the book, Hannem and Schneider argue that perhaps the ambiguity of the term is actually what makes it powerful, giving language for people to recognize harm and demand accountability outside of strict legal definitions. 
Below, Hannem offers some insights into her research findings. 
How has popular use of the term "sexual misconduct" evolved over the past 40 years?
"We discovered that back in the 1980s, 'sexual misconduct' was used to describe everything that wasn't straight, married sex. Then, slowly, as consensual same-sex relationships became more accepted and were no longer considered misconduct, and we developed different language to talk about sexual violence against children, the term sexual misconduct became more focused on violations of consent. 
"Post-1970s, there was also a real distinction made between sexual misconduct and sexual harassment, as harassment was quickly encoded into workplace laws. People, particularly women, started to say, 'Well, I don't know if what I'm experiencing is sexual harassment because I don't know if it fits into that law.' Sexual misconduct became a useful way for people to articulate an experience that they did not consent to but weren't sure if it met the legal bar of sexual harassment or assault." 
Why is the news media a meaningful source to track this evolution?
"The book is about how the media has helped to shape our understandings of what sexual violence is and to recognize it as an umbrella of experiences, not all of which are criminalized. It opens up the space for us to have conversations about experiences that have historically not been talked about. Many women have put up with uncomfortable and violating experiences as the price of being in social spaces, and now there are new opportunities to discuss and define boundaries around what's acceptable and not acceptable. It shakes up the social world in really interesting ways."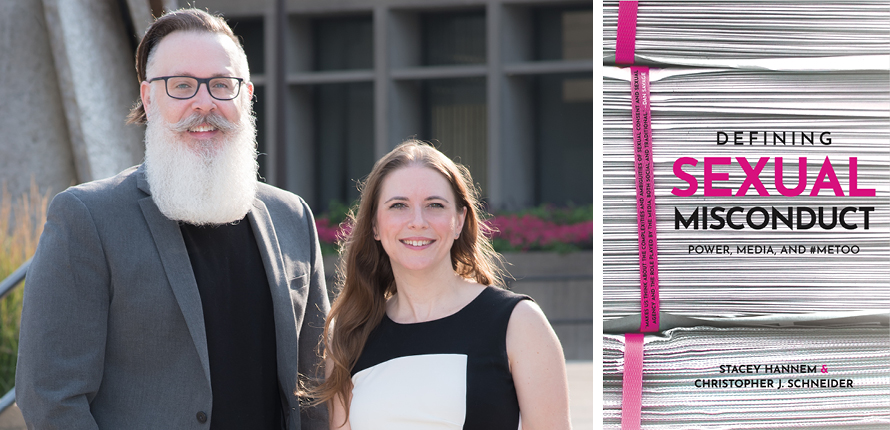 Schneider and Hannem
You examined some high-profile examples of sexual misconduct in the book. What did you learn by comparing the situations of Donald Trump and Harvey Weinstein?
"A couple of chapters in the book chart the evolution of those two cases and their initial similarities, and then the way that they diverged in terms of public responses. What we observed is that there seems to be a political division and that men who frame themselves as progressive allies to women tend to be held to a much higher and harsher standard by other progressives.
"This is partly what explains the disparity between Trump and Weinstein. The media repeatedly said, 'This is just Trump being Trump.' Nobody was shocked to hear that he was inappropriate with women. But since Weinstein positioned himself as a supporter of women in the arts and donated lots of money to progressive causes, his downfall was so much further. The people around him, the people who mattered in his social circle, said, 'We want nothing to do with him.' So there's this really interesting dimension to cancel culture where the people who are less progressive don't seem to get cancelled in quite the same way because the people who are paying attention to them don't hold them as accountable."
What other observations did you make about cancel culture?
"Another chapter excavates the cases of comedians Aziz Ansari and Louis C.K. What it came down to in our analysis was that these two men responded to the allegations against them in very different ways. One of the major criticisms of Louis C.K. is that he has never fully accepted responsibility for the harm he caused in a way that satisfied the people he harmed. I think that cancel culture is what happens when people refuse to accept responsibility and be accountable.
"My personal concern with cancel culture is that it doesn't seem to offer a lot of space for people to be redeemed. If we're looking for ways to address harm and build communities where harm doesn't happen, we need to have space for people to be able to acknowledge what they've done, repair the harm and then move forward. And I don't know that cancel culture offers that."
Defining Sexual Misconduct has been praised by high-profile figures in the #MeToo movement such as actress Alyssa Milano and former Uber engineer Susan Fowler. Do you see your book playing a part in the ongoing evolution of that movement?
"Yes. We wanted to contribute to the conversation by summarizing the dynamics of the discourse of sexual misconduct and then to look at directions for moving forward. I think we're at a bit of a crossroads where #MeToo has happened and changed the conversation, and some people are saying it's gone too far, and some people are saying it hasn't yet gone far enough. I think what most of us can agree on is that we haven't seen really crucial systemic changes yet. We're seeing a lot of surface-level conversations and individual punishments, but not a lot of system-wide social and cultural changes. So we wanted to contribute to that conversation and point out some of the directions we need to take and things that still need to be dealt with."
Based on your research, what are some of those key systemic changes and next steps?
"We are thinking about how to respond to sexual harm that falls outside of the criminal justice system. Historically, the justice system hasn't done a great job of responding to sexual violence and many survivors are really unhappy with the treatment that they received. So at a community level, how do we develop accountability mechanisms and prevent harm moving forward? A big piece of that is education and changing the culture, particularly of men's expectations around sex. We should be talking to young people about consent and how they can move through the world as responsible sexual and social citizens."