There is no shortage of community spirit among Wilfrid Laurier University employees this holiday season.
Faculty and staff generously contributed more than 200 toys, books and gift cards to Sarah's Holiday Toy Drive, an annual charitable event held in memory of Laurier staff member Sarah Wilkinson, who passed away in August 2018. Wilkinson worked at Laurier for more than 24 years and was the driving force behind the university's holiday toy drive, which collects toys for The Salvation Army's Toy Mountain initiative in Waterloo Region and Christmas assistance programs in Brant.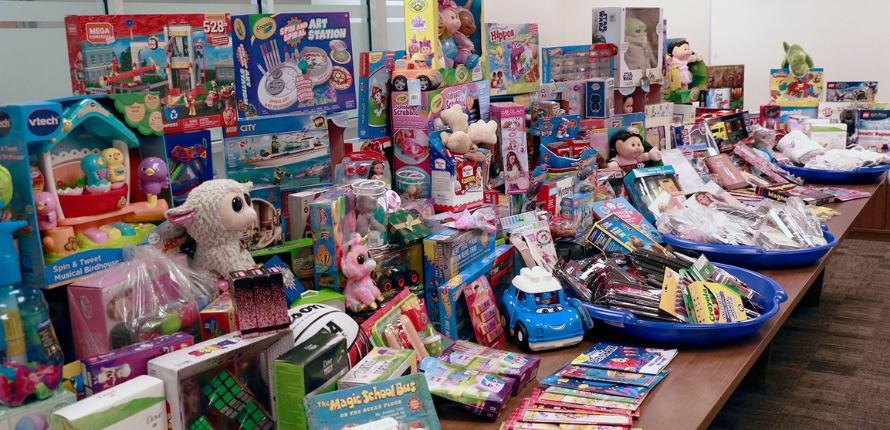 Wilkinson's colleagues in Financial Resources, including Julie Steckel, Florence Bray, Antoinetta Volpe and Penny Friesen, have organized Sarah's Holiday Toy Drive in her memory for the past four years.
This year's toy drive marked a return to in-person donations. Nine offices across Laurier's campuses and locations served as donation drop-off sites between Nov. 17 and Dec. 7. Last year, toy drive organizers collected gift cards via mail due to pandemic safety protocols.
"People were genuinely happy to donate a toy in person," says Bray, administrative assistant in Financial Resources and one of the toy drive co-organizers. "It's great to see people continue to remember Sarah and come together to support her legacy."
Toy drive organizers extend their thanks to Distribution Services staff members who collected donations from across Laurier campuses and delivered them to central locations for pick up by The Salvation Army.
There is still time to support The Salvation Army's holiday initiatives with a gift or financial donation. Visit The Salvation Army online for more information and donation locations in Laurier campus communities: