When Wilfrid Laurier University students return to the university's Waterloo campus in September, they might notice that large planters once filled with decorative flowers are instead overflowing with vegetables, including squash, tomatoes, eggplants, peppers, onions, beans, lettuce and kale.
Veda Hingert-McDonald, a recent Bachelor of Music graduate and one of the founders of Climate Justice Laurier, part of the Laurier Students' Public Interest Research Group (LSPIRG), has been working with a team of volunteers throughout the spring and summer to fill and tend to 13 large planters located in and around the Quad.
The fresh produce grown through the Food Justice Garden project is harvested and donated to Indigenous students experiencing food insecurity through a weekly food distribution program run by Martin Luther University College and LSPIRG. The project's vegetables are cleared off the shelves every week.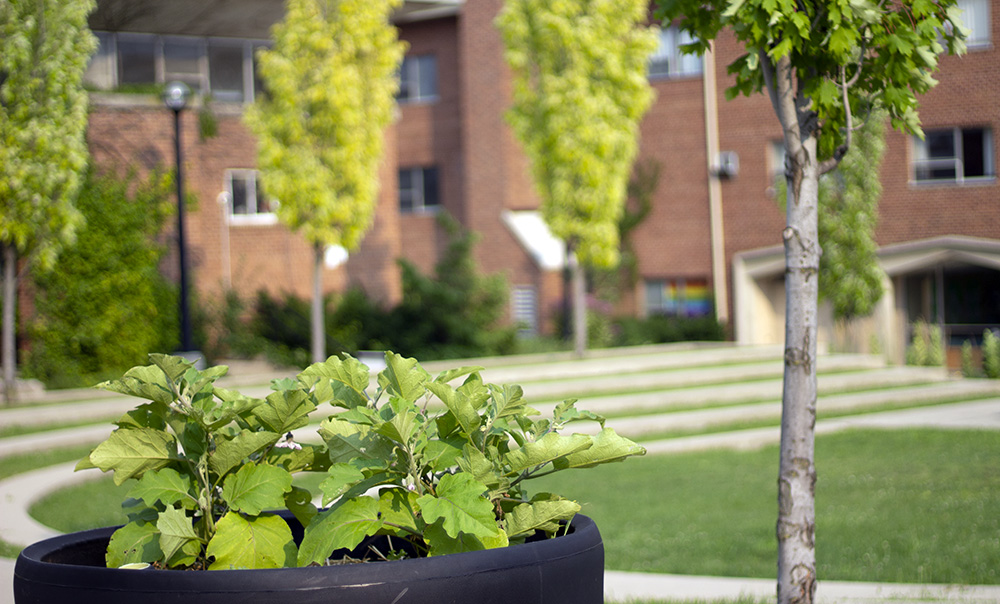 A planter of eggplants in the Quad on the Waterloo campus. 
"We thought it would be powerful to put the gardens right on campus, where it's really public, so people can see that growing food can become more of a regular part of our lives and food doesn't have to come from a farm far away," says Hingert-McDonald, who started the Food Justice Garden project with support from the Sustainable Hawk Fund. "We also want to show that food-scaping can be really beautiful. We hope people feel a sense of ownership over the garden, that it becomes part of their school."
Hingert-McDonald was inspired to start the project two years ago after learning that Indigenous and other marginalized students are significantly more likely to experience food insecurity. She began working with Climate Justice Laurier and established partnerships with the Indigenous Student Centre, which helps raise awareness about the availability of produce, and Laurier's Sustainability Office, which helped secure funding for the soil and plants through the Sustainable Hawk Fund.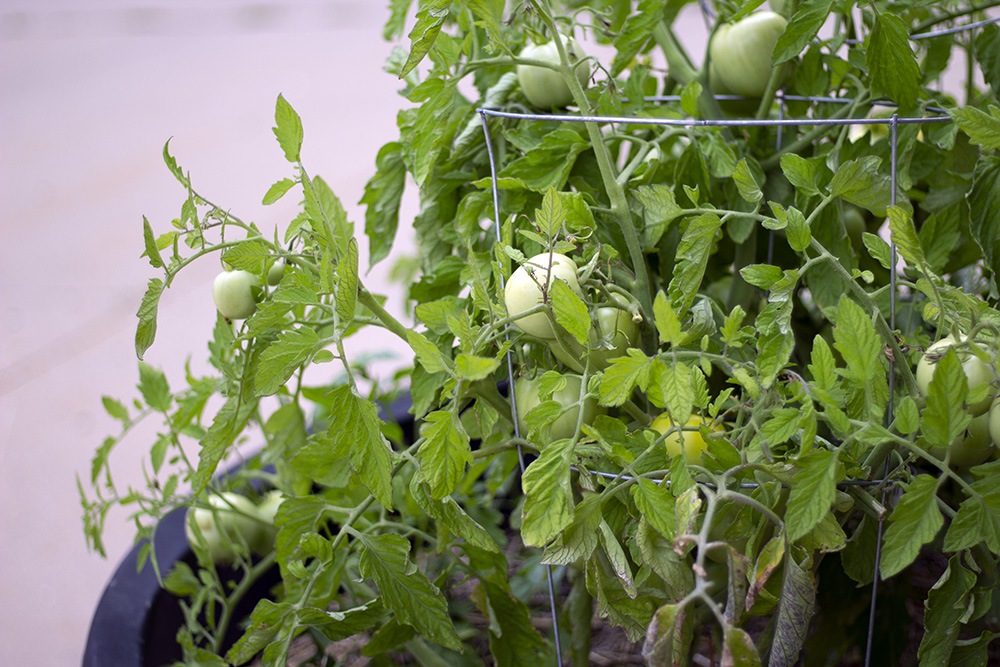 A planter of tomatoes, near the Quad on the Waterloo campus. 
Besides the planters around the Quad, volunteers have also planted in large beds near the Theatre Auditorium. These feature more annual crops as well as many perennials, including native elderberry, sweetgrass, strawberries and raspberries, that are too young this year, but they will produce fruit in future years. Before the fall term begins, Hingert-McDonald plans to add signs around the gardens explaining which plants are growing and why.
Though she recently graduated, Hingert-McDonald hopes the Food Justice Garden project will continue to produce food and feed people in future years, soon under the leadership of another volunteer.
"Besides music, I'm also studying permaculture, which looks to ecosystems to model how we grow food," says Hingert-McDonald. "Ecosystems are sustainable because they rely on a lot of close, interdependent relationships. It's not just about food. I believe there's a lot we can learn from nature and ecosystems in terms of how we can support one another and build a community where everyone thrives."