The thought of travelling abroad during university can captivate the imagination.
Whether it's studying ancient civilizations while exploring the archeological city of Petra in Jordan, tracing the footsteps of pirates in Puerto Rico or learning first-hand about sustainability and development from the Indigenous people of Chile, Laurier's field courses offer students a once-in-a-lifetime opportunity to travel internationally and be immersed in a different culture related to their program of interest.
Held between May and July, for-credit field courses run from 10 days to seven weeks. Introductory classes or pre-departure preparations begin on Laurier's Waterloo and Brantford campuses. While abroad, students are guided by experienced Laurier faculty and international university partners.
Read what students have to say about their field course experiences: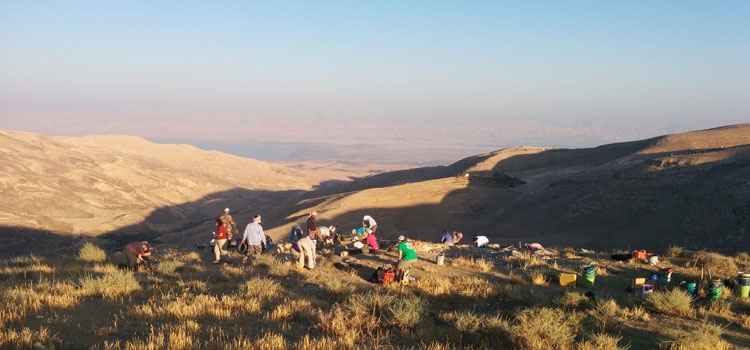 Jordan: Town of Nebo archeology dig
Laurier Archeology and Heritage Studies students are required to participate in one field course, either abroad in Jordan or Greece or locally at Fort Erie or Tay Point (Midland), during their undergraduate degree. It's that emphasis on experiential learning that attracted second-year archeology student Heather Robinson to Laurier in the first place.
"You don't realize how much you'll like archeology until you're in the field," said Robinson."You learn about different techniques and what area of archeology you want to focus on."
Not only do students gain experience in the field during the archeological survey, but they also attended weekly lectures at the historical sites they're learning about.
"We travelled to Petra in Jordan, a beautiful archeological city carved into the mountains, then had a lecture about the ancient city on-location," said Samantha Mittleman, a third-year Archeology and Heritage Studies student. "For students interested in ancient civilizations, this kind of trip is an amazing experience."
The Jordan field course is led by Assistant Professor Debra Foran and will run during the summer of 2017. Read the Town of Nebo blog.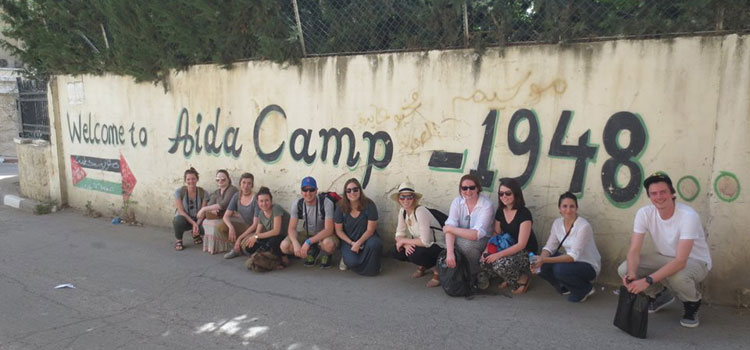 Israel-Palestine: Encountering the realities of conflict
A small group of Laurier students from global studies, political science, history and religion and culture ventured to one of the world's most controversial conflict zones to study the realities of the Israeli-Palestine conflict.
Organized by Gavin Brockett, associate professor in the departments of History and Religion and Culture, and two students, the trip invited students to apply who didn't have preconceived notions about the conflict.
"We had learned in the classroom about the conflict and narratives about suffering and victimhood," said Hillary Kendrick, a third-year Political Science student. "When we got there, it was challenging to hear both sides talk about their pride, victimhood and suffering and their attachment to the land; both sides said the same thing. When we were learning about this in the classroom there were so many generalizations, but once we got there I realized how incredibly complex this conflict actually is."
Kendrick also believes field courses like this are essential to the university experience.
"You learn so much more outside of your comfort zone. I learned a great deal about myself after having this experience. You have to take every opportunity that comes your way. Going on a field course has completely changed the direction of my degree."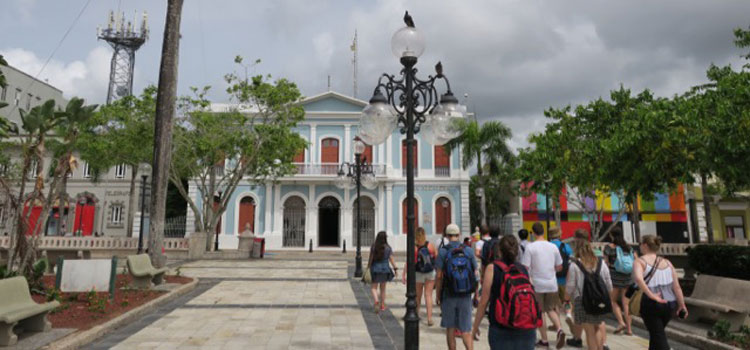 Puerto Rico: The history of Puerto Rico and the legacy of piracy and slavery
The History of Piracy in the Atlantic World Residence Learning Community (RLC) combined a mandatory in-class course and field course that introduced students to the Caribbean, Puerto Rico and more broadly, to slavery and piracy.
Students learned about Puerto Rico's history through a local tour guide, Papo Rivera, while also visiting forts in San Juan where privateer attacks took place in the 1500s. Students also got to "walk in the footsteps of a pirate" during an evening kayak tour through a mangrove forest into a bioluminescent bay where pirates would have travelled in small boats during the night.
"I'd much rather earn a credit swimming in the rainforest and exploring 16th century forts than sitting at a desk… and seminars are much better overlooking the Atlantic," said Madeline McInnis, a first-year History and Film Studies student. "This is my first international educational experience and has given me the confidence and courage to apply for an exchange in the upcoming year."
The History of Piracy in the Atlantic World RLC was led by Jeff Grischow, an associate professor in Laurier's History program and was also supported by Laurier's Faculty of Arts and Residence Life. Grischow was presented with the 2016 Residence Academic Partner award this past winter. He is working with the Pirates RLC again in 2016-17 and will return to Puerto Rico in May-June, 2017.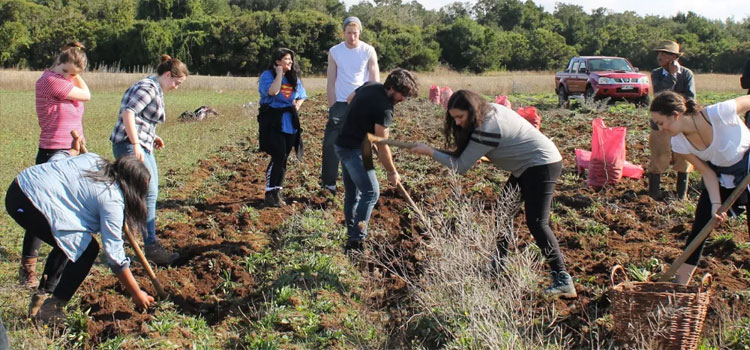 Chile: Development, justice and sustainable communities
Students spent three-weeks in Chile exploring questions of environment, development and social justice in rural and Indigenous communities.
"Being in the field meant I learned so much more, very quickly," said Candice Mayers, a Global Studies graduate. "We heard first-hand about the issues the Indigenous people of Chile faced, like water and land rights. You begin to see the struggle between ideology and the realities of needing to live and how complex those are to balance."
The students arrived in the capital city of Santiago and then explored the scenic port city of Valparaiso. Students attended guest lectures at the University Concepción and finally, headed south to the traditional territory of the Mapuche Indigenous people.
"I wanted to travel to Chile to put my education in practice and discover what the things I've been learning about look like in real life," said Shantelle Matos, a third-year Global Studies and Spanish student. "It was wonderful to be able to practise my Spanish language skills and build a connection with people in Chile."
The field course to Chile runs biennially and is led by Alex Latta, associate professor in Laurier's Department of Global Studies. Read more about the Chile field course.