June 5, 2015
For Immediate Release
WATERLOO – Wilfrid Laurier University will hold its spring convocation ceremonies on the Waterloo campus June 8 to 12, and on Laurier's Brantford campus June 16 and 17.
As of June 5, approximately 3,004 students had met all program requirements and qualified to graduate. Laurier expects to confer 265 graduate degrees, 2,731 undergraduate degrees and 8 diplomas. On average, 80 per cent of Laurier graduands attend convocation ceremonies. The university will hold nine ceremonies in Waterloo and three ceremonies in Brantford.
Honorary degree recipients include Ziauddin Yousafzai, education activist and father of Malala Yousafzai; Linda Schuyler, co-creator of the Degrassi television series; opera singer Isabel Bayrakdarian; scholar Natalie Zemon Davis; entrepreneur Aziz Bhaloo; Lutheran leader Martin Junge; and Mohawk language preservationist Brian Maracle.
Waterloo ceremonies will be held at the Athletic Complex and Brantford ceremonies will be held at the Sanderson Centre for the Performing Arts. Honorary degrees will be bestowed at the following ceremonies:
Monday, June 8, 2 p.m. (Waterloo): Isabel Bayrakdarian.
Wednesday, June 10, 2 p.m. (Waterloo): Natalie Zemon Davis.
Thursday, June 11, 9:30 a.m. (Waterloo): Ziauddin Yousafzai.
Thursday, June 11, 2 p.m. (Waterloo): Aziz Bhaloo.
Friday, June 12, 2 p.m. (Waterloo): Martin Junge.
Tuesday, June 16, 2:30 p.m. (Brantford): Brian Maracle.
Wednesday, June 17, 10:30 a.m. (Brantford): Linda Schuyler.
For a complete convocation schedule, visit wlu.ca/convocation.
Martin Junge will deliver a free public lecture at the Waterloo Lutheran Seminary on Thursday, June 11, at 7:30 p.m.
— 30 —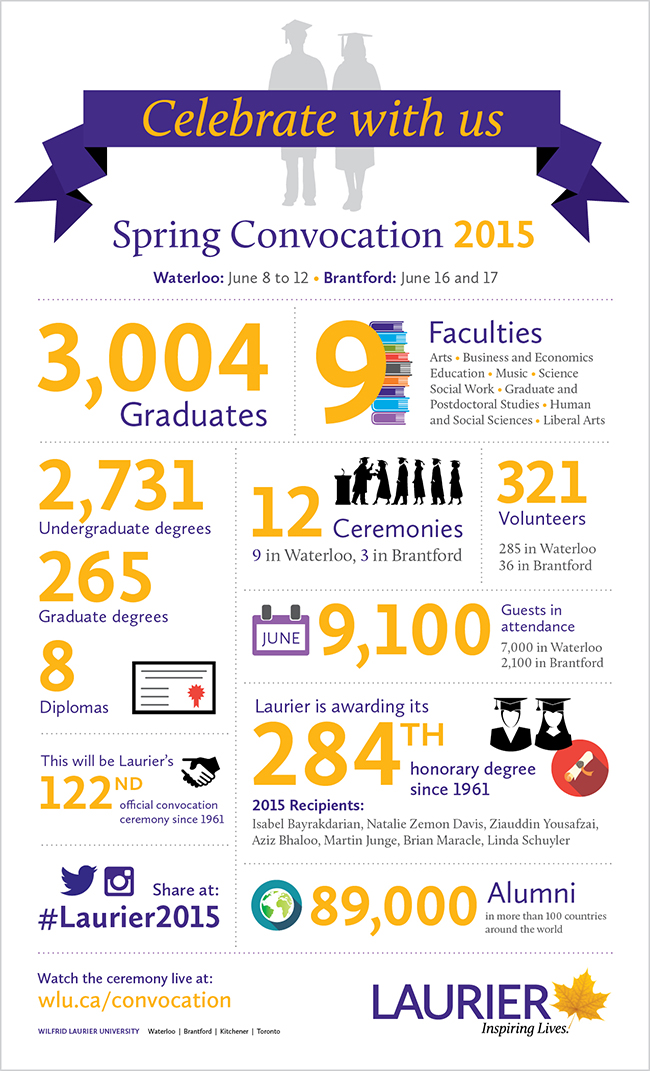 Download the infographic (PDF) | Download text-only version (PDF)