Artist: Rochelle Rubinstein
Exhibition dates: Jan. 6 – Feb. 15, 2020
Opening reception: Monday, Jan. 20 at 7-9
Exhibition Statement
The two rooms in Rochelle Rubinstein's Book Room are not ordinary rooms. Unlike a library, they don't house books; books are, rather, their very masonry. Much as a room symbolically represents the workings of the traumatic mind, a book is a figure of trauma, and it tells us how to read it. Reading a book is linear; meaning is revealed cover to cover, over time. Like trauma we can never take in all of a book's meaning in one sitting. But that, after reading, we know all that a book contains, suggests that reading is circular, a return. And like a fractured self, the narrative makes more sense, or means differently, over time, with each successive reading. The narrative of self gets longer over time; the library gets larger. Over a decade the journals that comprise Book Room were composed of scraps and discards, whims and fragments, from newspaper to silkscreen and woodblock prints. Hanging, the books enact their very concern with history. They overturn the normal association of reading with linear time; their verticality enacts depth, asking us to plumb the depths of history, to return to the past.
The texture of fabric, of scraps, becomes a text unto itself, a surface to read into the traumatic past, personal and collective: a family's internment in the Holocaust and escape to an Italian refugee camp; a mother's sewing, a way of weaving a self; or the Iraq war. Lines are lineage, but they depict traumatic histories as well as playful potential, lines of flight. Stripes overlay a prisoner uniform, but also a prayer shawl, in an unexpected merger. And yet they are the same lines in a notebook waiting to be filled. Like the lines of codex scrolls, the lines are overlaid with meaning, a palimpsest. Piercing the paper, silk thread vivifies the lines of Ecclesiastes with family history, a text deeply concerned about making meaning in despair. Repetition, as decorative as it is, becomes a figure for traumatic repetition itself, a repetition of history, a way of fabricating continuity over time that makes meaning. Behind the separate and fragmentary images is a coherent story, an accumulation of images that holds them together. That backstory, that binding image, is a figure for the unconscious, the traumatic mind itself; its absence throws into relief the presence of the fragments. That backstory is a figure for history itself too. Only one side of a book is visible at a time, but there is another side. There is another side to history and another side to consciousness that is unseen. The images hold together, are coherent and contained, but not too tightly—leaving room for the rest of the story.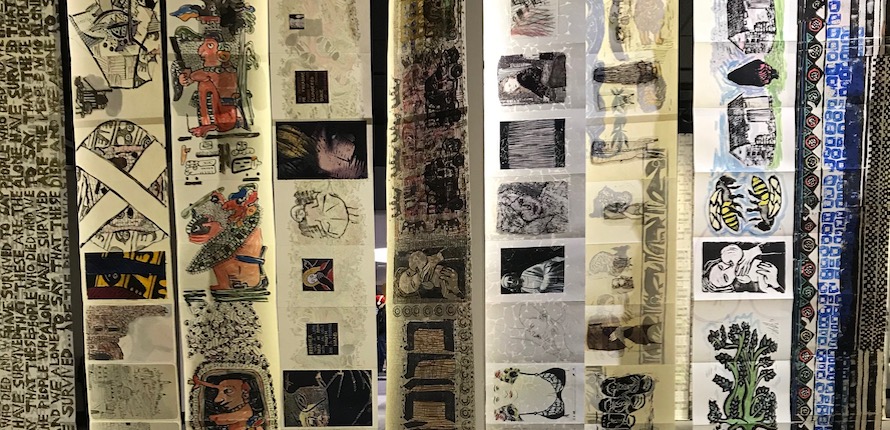 Artist Biography
Rochelle Rubinstein is a Toronto-based printmaker, painter, and fabric and book artist.
Her work has been exhibited in diverse places such as the Irish Museum of Modern Art in Dublin, Yeshiva University in New York and McMaster Museum of Art in Hamilton. For eighteen years Rubinstein was a member of Loop Gallery, and for seven years she curated monthly exhibitions at MonTon Window Gallery in downtown Toronto.
Rubinstein's work can be found in public collections such as the Museum of Modern Art in New York, and the Victoria and Albert Museum in London.
As a community arts facilitator, Rubinstein's workshops and projects – involving drawing, printmaking, sewing and book-making – have supported populations like health workers, abused women, people with eating disorders, seniors with depression, at-risk youth, and Arab and Jewish artists.
Rubinstein is also a steward of Bela Farm in Hillsburgh, Ont., where she is engaged in agriculture, art and activism.