Presented by Lynn and Tom Oldfield
2017 Award Recipients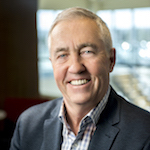 Dan Einwechter, BBA '77
Founder, Chairman, CEO, and President, Challenger Motor Freight Inc.
Dan Einwechter is founder, chairman and CEO of the Challenger group of companies headquartered in Cambridge, Ont. Currently an executive member of the Board of Directors for both the Ontario Trucking Association and the Canadian Trucking Alliance, Dan got his start in transportation by driving trucks as a teenager. This experience inspired him to form a transportation company in 1975 as a means to support his university education.
For more than 40 years under Dan's leadership, Challenger has grown to a fleet of 4,000 trucks and trailers and 600,000 sq. ft. of warehousing and a 53-acre facility. Challenger's success is the accumulation of many years of hard work, dedicated employees and a philosophy of continuous improvement. When it comes to customers, Dan and his team truly live Challenger's slogan of "We Go the Distance."
In 2004, Dan was recognized for his outstanding contributions to the truck transportation industry through the Trailmobile Service to the Industry Award. In 2002, was named Al Palladini Transportation Person of the Year and was also the recipient of the Ontario Entrepreneur of the Year Award (EOY) in the "Business-to-Business, Products and Services" category. Dan was inducted into the Waterloo Region Entrepreneur Hall of Fame in 2007. He has served on the Dean's Advisory Council for the Lazaridis School of Business & Economics, the President's Council of Advisors, and the Campaign Cabinet for the Building Canada's Best Business School fundraising campaign. Among his many industry and community awards, including recognition as leading one of Canada's 50 best-managed companies, Dan was named Laurier's Alumnus of the Year in 1996 and one of Laurier's 100 Alumni of Achievement in 2011.
Dan has Bachelor of Business Administration degree from the Lazaridis School of Business & Economics. Dan takes tremendous pride in being a part of the Canadian transportation industry and feels a great sense of accomplishment knowing that his company adds value to North American Commerce.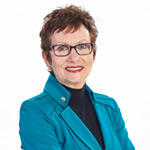 Pat Krajewski, DIPL '89, MBA '90
Retired Senior Vice President, Scotiabank
Pat Krajewski is a retired financial services executive with expertise in human resources, reputation risk management and international business. She is currently active in the tech community as a mentor, advisor, and a strategy team member of MoveTheDial.
Through her diverse and lengthy career with Scotiabank she led teams making significant contributions to strategy development, leadership development and succession planning, brand and reputation risk management and international mergers and acquisitions. Pat also has experience in the areas of global risk management, investment banking and Canadian personal and commercial banking. Her most recent positions at the Bank included Senior Vice-President, Public and Corporate Affairs, Senior Vice-President, International Banking Human Resources and Senior Vice-President, Corporate Human Resources.
Pat served on the Board of Wilfrid Laurier University for nine years, holding the positions of Board vice-chair, Board secretary and chair of the Human Resources Committee. She was also a member of the Executive and Governance Committee, the Nominations Committee, the Resource Planning and Utilization Committee, as well as serving on multiple search committees, including the university President Search Committee. Pat continues to be very actively involved with Laurier and is currently vice-chair of the Dean's Advisory Council for the Lazaridis School of Business and Economics and a member of the Campaign Cabinet for the Building Canada's Best Business School fundraising campaign.
Pat has received a number of awards from Laurier including the MBA Gold Medal, the Governor General's Gold Medal, Distinguished Governor Award, MBA Alumna of the Year and Top 100 Alumni.
Pat holds a Business Administration Diploma and a Master of Business Administration from the Lazaridis School of Business and Economics. Pat is most proud of being a partner to her husband, Rick, and mother to her daughter Jill and son Shane. In her retirement, in addition to focusing on giving back, Pat is having the time of her life spending time with her family and friends, going to concerts and sporting events, and travelling.
Past Recipients
Mike Stork, BBA '77 (2016)
Carolyn Wilkins, BA '87 (2016)
Bob Hamilton, BBA '71 (2015)
Bill Webb, BBA '86 (2015)
Mike Ward, BBA '86 (2014)
Rob Giammarco, BBA '91 (2014)
Jim Gabel, BBA '85 (2013)
Lynn Oldfield, BBA '84 (2013)