Wilfrid Laurier University student Carly Zeller wants to make a 'paws-itive' impact on the life of a child living with autism. 
Zeller, a first-year student in the Bachelor of Education program, is a volunteer puppy raiser for National Service Dogs, an organization that trains Labrador and golden retrievers to support children living with autism and veterans and first responders living with post-traumatic stress disorder. Zeller has been raising Rolo, an 11-month-old yellow Labrador retriever mix, since December 2020. She provides Rolo with care, attends National Service Dogs training classes with him and socializes him in various settings, including Laurier's Waterloo campus.
"Exposing Rolo to an energetic environment like Laurier this fall will strengthen his training and build his focus," says Zeller. "He is such a smart dog. Training him is very rewarding for me."
Laurier is committed to creating an inclusive and accessible environment and welcomes service animals and service animals in training on its campuses under the university's Animals on Campus policy. The policy requires handlers to register their animal with the university and ensure the animal wears a service vest or harness. Handlers of service animals in training must carry the animal's Laurier-issued identification at all times.
Zeller has worked with Laurier's equity and accessibility team to ensure that she and Rolo are compliant with the policy. Her instructors and classmates have also been informed about Rolo's attendance in class.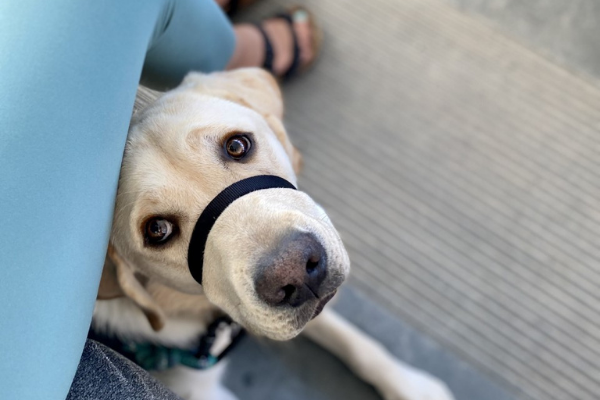 Although Rolo's good looks and calm demeanour can attract attention, Zeller asks that you simply ignore him.
"Rolo is still learning and working through his training," says Zeller. "When people approach him or distract him, he can forget what his job is in that moment."
Zeller helped Rolo complete National Service Dogs kindergarten and grade school puppy-training programs during her final year at the University of Guelph. She and Rolo are working through the high school phase of his training, which includes advanced commands and working in small spaces. Rolo will move on to a new handler in early 2022 to further his skills and await acceptance into National Service Dogs' university-level training program.
Zeller says saying goodbye will come with mixed emotions.
"Rolo will always be special because he is the first service puppy I've raised," says Zeller. "Saying goodbye will be hard, but by doing so someone in need can benefit from the incredible support that I know Rolo will give. That makes me so happy."
Zeller plans to follow Rolo's progress on the National Service Dogs website and hopes his future handler will maintain the Instagram account she created to document his progress.