It wasn't the outcome she expected, but Wilfrid Laurier University student Tuesday Kaiser has happily accepted it.    
Kaiser sparked more than $10,000 in donations to Laurier's annual Shinerama fundraising campaign in support of Cystic Fibrosis Canada after sending a friendly and energetic email to Laurier alumni Ian McLean (BA '98) and Hilary McLean (BBA '99).  
The email, sent on Sept. 10, asked if the McLeans would consider donating to Kaiser's Orientation Week Shinerama fundraiser and help her reach a $2,300 goal. Kaiser, an Orientation Week volunteer ice breaker, had been leading the highly competitive fundraiser with $1,952 in donations but feared coming up short as the competition's deadline of Sept. 11 at 5 p.m. approached.  
"I couldn't believe my eyes when I saw their reply to me the next morning," says Kaiser. "It was unbelievable. I'm still processing it."  
The McLeans replied with a donation to Kaiser's campaign and an offer to double all forthcoming donations, without limit, that she could secure before the competition closed.    
"Hilary and I were impressed with Tuesday's competitive spirit and passion to support people living with cystic fibrosis through Shinerama," says Ian. "Resourcefulness and hustle are good skills to have and she's definitely got them. It was exciting to watch her go for it."  
In total, Kaiser's efforts raised $12,113, the most among Laurier student Shinerama fundraisers this year. Her Orientation Week team, the Blue Beacons, raised over $17,000 and secured the title of top fundraising team. 
Kaiser and the McLeans met earlier this year over Zoom. Kaiser is the 2021 recipient of the McLean Family Scholarship Fund, which supports students enrolled in a double major and who are active in the Laurier community. Kaiser is a fourth-year student majoring in Archaeology and Biology. She is also a member of Laurier's Archaeology Society, Foot Patrol team and a past biology student mentor.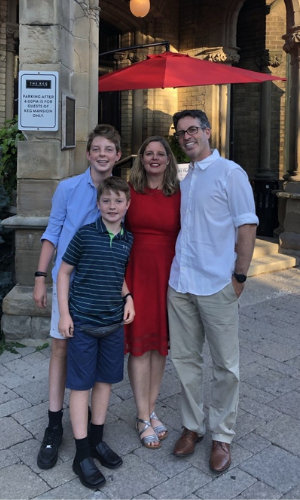 "We really hit it off during that call and I felt that Ian and Hilary related to me as a Laurier student," says Kaiser. "Shinerama is a great cause and seemed like something they would be interested in as active alumni. I didn't expect such a generous offer, but I am grateful for it."  
Kaiser promptly shared the McLeans' offer with her Orientation Week teammates, the Blue Beacons, who began circulating a link to Kaiser's online fundraiser among their networks. Ian also shared Kaiser's fundraising link with his family and friends from Laurier, which created additional support for the campaign – and a few trips down memory lane.  
Friends Doug Tetzner (BBA '98), a former Orientation Week ice breaker, and Sharon Paterson (BBA '99), a past Shinerama campaign captain, each donated $1,000 to Kaiser's campaign. Ian's mother – who served as Shinerama campaign captain at McMaster University in 1962 – also supported Kaiser's cause. 
"Support for Shinerama is testament to community engagement at Laurier and the chance to be a part of something bigger," says Ian. "That spirit gets imprinted on students in a powerful way during their first year and carries through their Laurier experience."  
Kaiser first learned about cystic fibrosis during her Orientation Week at Laurier in 2018 and gained further knowledge during a second-year biology class. Cystic fibrosis is a fatal genetic disease that affects the lungs and digestive system. Those born with cystic fibrosis have just a 50 per cent chance of living to the age of 54.    
"Cystic fibrosis limits a person's chance to live a long life," says Kaiser. "Fundraising contributes to research so that we can find a cure. I'm happy to do my part because every little bit helps and can add up to real change."  
While the Shinerama fundraising competition period has closed, donations to Kaiser's Shinerama campaign can still be made online.