Wilfrid Laurier University Professor Stephen Wenn has created new ways to engage students in a sports history course offered remotely during the COVID-19 pandemic.
Wenn organized online lectures with authors of some of the texts covered in KP345: Sport Personalities, Celebrities, and Rivalries, a third-year course offered in the Department of Kinesiology and Physical Education.
Through the course, students develop an understanding of the historical contributions of athletes from around the world and how they helped shape modern sports by challenging stereotypes and overcoming barriers. Athletes covered in the course include baseball player Jackie Robinson, long-distance runner Tom Longboat, track and field athlete Gretel Bergmann, and figure skater Sonja Henie.
When discussing the historical significance of boxing great Muhammad Ali, Wenn's students met virtually with history Professor Randy Roberts from Purdue University in Indiana. Roberts is the co-author of Blood Brothers: The Fatal Friendship Between Muhammad Ali and Malcolm X. The book details the complex friendship between Ali and Malcolm X, a spokesperson for the Nation of Islam during the early 1960s, and is the foundation of the 2021 Netflix documentary Blood Brothers: Malcolm X and Muhammad Ali.
"The author appearances have been a highlight for my students during remote learning," says Wenn. "Remote learning creates access to sports historians like Professor Roberts. Their expertise brings the course content to life for students and helps them draw parallels to contemporary issues."
Roberts first spoke in Wenn's class during the fall 2020 term, five months after the murder of George Floyd by former Minneapolis police officer Derek Chauvin. Questions from Wenn's students reflected a new understanding of racial issues through the lens of sport and the connections between movements such as Black Power during the 1960s and Black Lives Matter today.
Laurier student Paige Carmichael, who took KP345 during the fall 2020 term, says the opportunity to meet virtually with an author and sports historian has deepened her appreciation of the social justice issues addressed through the course.
"The opportunity to connect with Professor Roberts in real time was very interesting," says Carmichael. "He gave a factual and genuine interpretation of the relationship between Muhammad Ali and Malcolm X, the back story of that time in history, and his experience writing the book. I've come to see sports as not just entertaining but educational, too."
Carmichael says other topics covered as part of the course, including women's rights and sports, culture and sports, and racism in sports, have helped her develop more critical views on current issues, such as barriers faced by trans-gender athletes.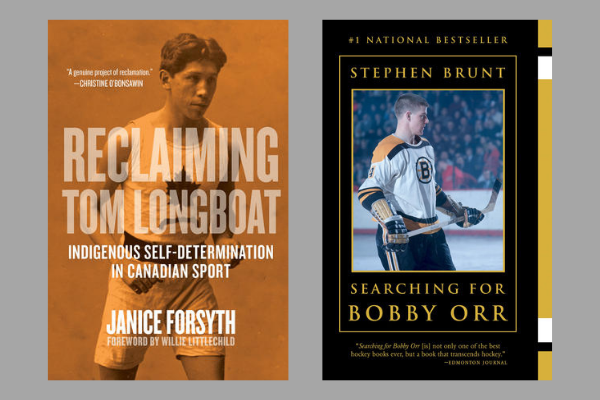 Students in Wenn's fall 2021 offering will also meet virtually with Janice Forsyth, director of Indigenous Studies at Western University and the author of Reclaiming Tom Longboat: Indigenous Self-Determination in Canadian Sport. Forsyth will discuss her book, a required text in Wenn's course, and issues related to colonialization and sports in Canada.
Canadian sports journalist Stephen Brunt will join Wenn's class in December to talk about his book Searching for Bobby Orr and Orr's vast influence on hockey, on and off the ice.