In parallel with the ongoing COVID-19 pandemic, the World Health Organization has declared an "infodemic," an overabundance of information about COVID-19 that is often deliberately false. Four students at Wilfrid Laurier University recently developed an analytical model to predict the accuracy of COVID-19-related news, which could potentially be used to help combat the spread of harmful misinformation.
The team of students was made up of Mohsen Bahremani and Daniel Berezovski, both master's students in Mathematics concentrating on Statistics and Data Analysis; Rini Perencsik, a second-year undergraduate student in Data Science; and Irene Zhang, who recently completed her master's in Mathematics with a concentration in Statistics and Data Analysis. They conducted their research as part of a case study competition hosted by the Canadian Statistical Sciences Institute and the Statistical Society of Canada in which student researchers were invited to use publicly available COVID-19 data to develop an analytical tool or model that could be useful to decision makers.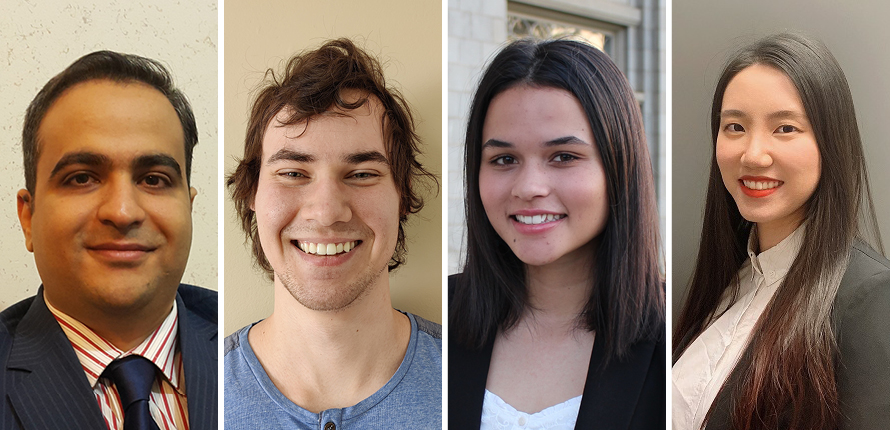 (left to right): Bahremani, Berezovski, Perencsik, Zhang
"We thought that building a fake news detector was a good idea because people are struggling to find trustworthy information," says Perencsik. "Misinformation is threatening social cohesion, inspiring political polarization and making it difficult for the government to take measures to reduce the spread of the virus."
The research team, who was mentored by Xu (Sunny) Wang, an associate professor in Laurier's Department of Mathematics, met virtually every Sunday to formulate ideas and assign tasks. They evaluated a variety of machine-learning algorithms to determine which would work most effectively.
"We compared the models to one another and combined the best performing ones to leverage the advantages of each model and compensate for the fact that we didn't have a whole bunch of data to work with," says Perencsik, acknowledging that the novelty of COVID-19 made it difficult to find comprehensive data sets.
Ultimately, the team's research came together in a report and a webpage which allows users to input COVID-19-related news and receive an assessment of how factual it likely is. On the back end, a unique combination of algorithms uses different methods to determine accuracy. One algorithm picks up on patterns in the sequence of words, while another identifies phrases such as "man-made virus" to flag false information.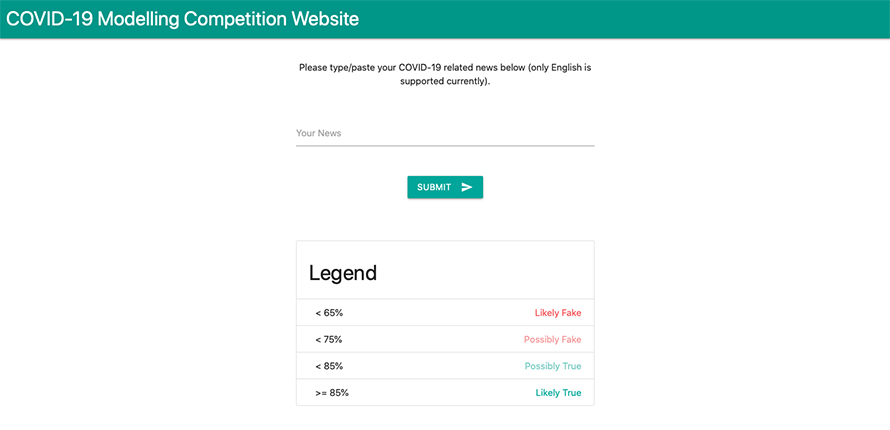 Web page entered into the case study competition.
In addition to their multinational backgrounds – Bahremani is from Iran, Zhang is from China, Perencsik is from the United States and Berezovski is from Canada – the group attributes its diverse assortment of skills as key to a successful working relationship. They all describe finding great enjoyment in the research process.
"I like the novelty factor," says Berezovski. "When you're a kid, you are always down to try new things. Research is like that. No one has ever done that specific thing and you don't know what's going to happen or if it's going to work."
"I call it a 'high point,' the feeling I experience when we find results," says Bahremani. "It makes me feel powerful to take on the next research problem."
Zhang appreciated the opportunity to tackle a real-life challenge, something Wang is keen to encourage.
"I believe that students learn better if they can apply their knowledge in the real world and realize how complicated real problems can be," says Wang. "These kinds of hands-on research projects allow students to practice what they have learned and train themselves to be team players, because data science is a collaborative endeavour."
The students have submitted their report and are awaiting the results of the case study competition. Though the need to regularly update their data set with new information prohibits them from sharing the web tool for public use, their research can serve as a launchpad for further study.
"We hope other researchers read our paper and build off of our discoveries," says Perencsik.