Wilfrid Laurier University researchers have received federal funding toward the creation and enhancement of two innovative lab spaces: one that will help mitigate water contamination and another that will share the stories of marginalized people globally.
Dirk Wallschläger, a professor of Chemistry and Biochemistry, and Bree Akesson, an associate professor in Laurier's Faculty of Social Work and Social Justice and Community Engagement graduate program, both received grant funding from the Canada Foundation for Innovation's John R. Evans Leaders Fund (JELF).
"Investing in our university research infrastructure is key to our continuing role as an innovation leader," says the Honourable Francois-Philippe Champagne, Minister of Innovation, Science and Industry. "These investments will not only support our groundbreaking contributions to science and research but also improve our economy, environment and quality of life."
Wallschläger's research focuses on selenium, an environmental contaminant that poses challenges to fresh water systems and aquatic wildlife across North America. The Laurier Distinguished Research Chair in Aquatic Sciences, Wallschläger received $200,000 in JELF funding to purchase an inductively coupled plasma-mass spectrometer (ICP-MS) and an ion chromatograph (IC), two key pieces of instrumentation that will allow his research group to measure selenium and its individual chemical forms in environmental samples.
"The combination of these two tools will help us understand how selenium accumulates in aquatic food chains and why the bioaccumulation of selenium varies strongly between different ecosystems," says Wallschläger. "We also want to learn why some selenium water treatment systems do not perform as well as anticipated. That information can then be used to fine tune those systems to reduce industrial selenium emissions."
Acquiring these instruments at Laurier represents the first step in Wallschläger's plan to create the world's most advanced analytical facility for the study of selenium in natural and industrial environments.
"We are aiming to build a comprehensive suite of state-of-the-art analytical methods and make them available to the scientific, regulatory and commercial communities," says Wallschläger. "Our ultimate goal is to help develop science-based environmental regulations that provide adequate protection for aquatic wildlife in harmony with sustainable industrial operations."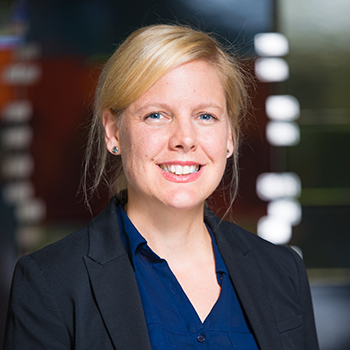 Akesson, the Canada Research Chair (CRC) in Global Adversity and Well-Being, studies how extreme adversity – defined as poverty, war and climate change – impacts individual, family and community well-being. She received $57,077 toward the construction of the Mapping Stories Global Research Lab. Located at Laurier's Brantford campus, the lab will provide tools for researchers and students to collect data and create dynamic, interactive stories focused on individuals and families impacted by global adversity.
"The stories of those affected by extreme adversity are often singularly focused on trauma or told primarily through statistics, which fails to convey their nuanced realities and reinforces dominant unidimensional narratives of vulnerability and victimization," says Akesson. "This problem is exacerbated by the fact that the precarious settings where these individuals live pose challenges for collecting rich and authentic data about their experiences. What is needed is a more comprehensive understanding of the lives of those impacted by extreme adversity, which is best uncovered through rigorous yet sensitive research methodologies."
The Mapping Stories Global Research Lab will blend mobile and static lab models. In addition to portable technology that researchers can take into the field to gather data, it will be equipped with tools to analyze research data, creatively share research findings with audiences around the globe and motivate action. Researchers will use a mix of qualitative and quantitative methods, from narrative, video, drawing and mapmaking to global positioning system (GPS) tracking.
Additional funding for the Mapping Stories Global Research Lab has been provided by the CRC program and Akesson's 2019 Early Research Award from the Ontario Ministry of Research and Innovation and Science.