Alison Mountz begins her new book with an obituary. Rather than marking the loss of a single life, however, this obituary signals the interception of many lives by a broken global asylum system.
"Judith Butler writes that the function of an obituary is to publicly distribute grief; to alert the world to a loss," says Mountz, professor in Wilfrid Laurier University's Department of Geography and Environmental Studies and the Canada Research Chair in Global Migration. "That's why I opened the book with an obituary: to alert people to what's happening."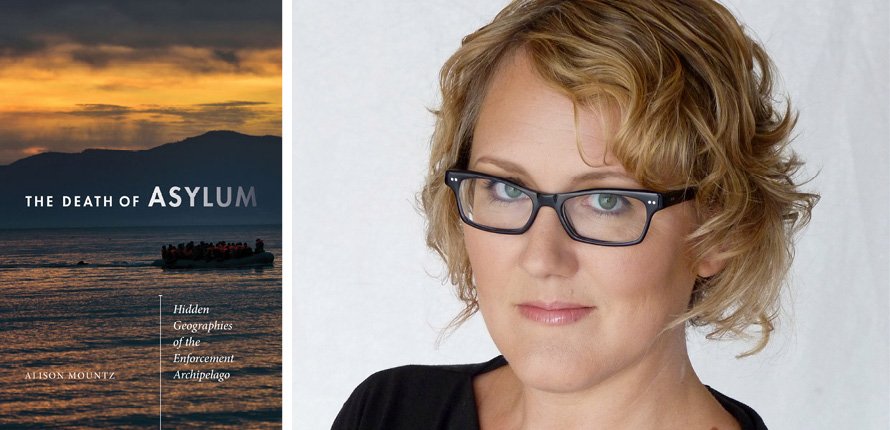 Book cover: University of Minesota Press
What's happening is that countries in the Global North are increasingly using remote detention centres to detain migrants who are travelling to seek asylum. Mountz's book, The Death of Asylum: Hidden Geographies of the Enforcement Archipelago, is based on years of research in offshore detention facilities in countries such as Australia, Italy and the United States. She details how governments use the inaccessibility of remote islands to curtail asylum seekers' human rights, far from the scrutiny of human rights groups, journalists and citizens.
In a recent interview, Mountz answered questions about her research and what it means for our society.
Q: How did the subject of offshore detention centres first capture your attention?
Mountz: As a geographer, much of my work looks at how states use geography to mediate people's access to rights, like the right to seek asylum. Islands kept popping up in my research as sites where border enforcement, detention and asylum processing were happening. When people are travelling by boat, they often end up on an island because it is either the closest territory where they can make an asylum claim, or they are intercepted there by authorities. Interestingly, this offshoring of border enforcement is being carried out by the very states that are observers of the UN's Convention relating to the Status of Refugees. The same countries have committed to offering state protection to those who can prove they have a well-founded fear of persecution if they return home.
Q: When conducting the research for your book, you had "unprecedented access" to offshore detention centres and immigrant-processing facilities. Describe those experiences.
Mountz: The research took place on Lampedusa Island, a small Italian island close to the coast of Tunisia, on Australia's Christmas Island near Indonesia, and on the Pacific islands of Guam and Saipan, which are U.S. territories. As a research team, we visited the islands to conduct qualitative research on what's happening day to day at these sites. Qualitative research was key because there's not a lot of data available about people in detention who are intercepted at sea.
Whenever possible, we spoke to people who were seeking asylum. But you can't just turn up at a detention centre and ask to go in. We would accompany people who had already established relationships of trust, such as lawyers meeting with their clients or visitor groups who go into facilities to spend time with people. And sometimes we would ask authorities if they would bring us on a tour of the facility or talk to us about what was happening there.
Q: Did you encounter resistance from authorities when you tried to enter?
Mountz: Yes, and all of the facilities where we did research have histories of denying access to journalists, politicians and human rights monitors. That is something that we had to deal with and one of the reasons why we tended to do formal interviews outside of the facilities with people who had been released so it was safer for them to talk about what was going on inside.