The COVID-19 pandemic has forced students across much of the Western world to switch to remote learning using online technology. But what happens to students who cannot attend school remotely because they do not have electricity in their homes, or even access to radio or television?
This is the reality of life for many children who live far from urban centres in the remote regions of Kenya, near beautiful world heritage sites including the Masai Mara. These children are eager to learn, to become literate and numerate, and their teachers are prepared to help them. They simply need the resources to do so.
Enter ABRA @ Home, a pilot project that invited 10 enthusiastic teachers in Kirindon, Kenya to help children in their remote communities learn how to read. After more than two months of no schooling for children in Kirindon, each teacher selected five households to visit and brought along ABRA, an interactive program that teaches foundational literacy skills. Though typically a digital program, it was adapted to be delivered in a paper-based format.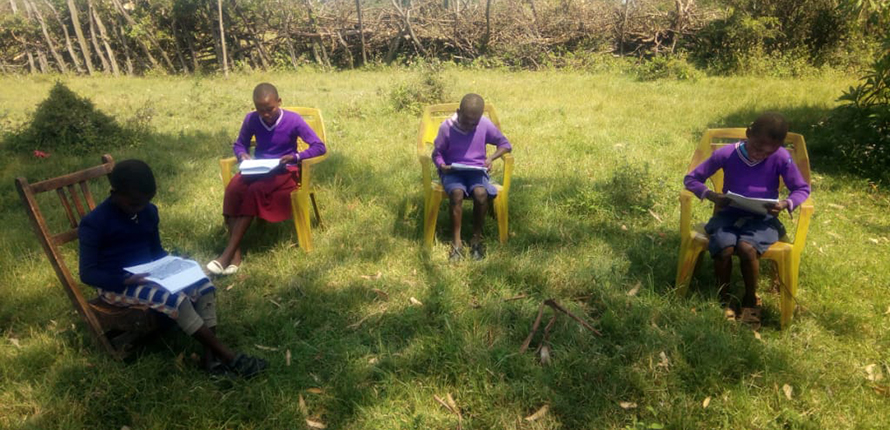 ABRA @ Home launched on June 9, 2020 and has already grown to include approximately 200 highly motivated primary school children.
Alexandra Gottardo and Eileen Wood, professors of Psychology at Wilfrid Laurier University, developed and delivered this pilot project with an international team that includes specialists from the Centre for the Study of Learning and Performance at Concordia University, World Vision Canada, World Vision Kenya and the Aga Khan Academies. They came together as part of related research projects funded by a Social Sciences and Humanities Research Council Partnership Grant, the International Development Research Centre and the World Bank.
"In our capacity as research leads, we are evaluating and assisting in the implementation and design of professional development for teachers to facilitate the delivery of the ABRA @ Home program, as well as the integration of software tools with the local national curriculum," says Gottardo. 
ABRA @ Home was derived from two technology-based tools within Concordia's Learning Toolkit software: ABRACADABRA and READS. ABRACADABRA is interactive instructional software that teaches early reading skills, while READS is an organized catalogue of free digital stories.
Thirst for learning
"The early success of ABRA @ Home is in large part thanks to the skilled teachers we are working with in Kirindon, who are accustomed to tackling the difficult challenges of teaching in a remote area," says Wood. "We facilitated a two-day virtual workshop for the teachers on how to use the ABRA @ Home program. We also printed bundles of lessons and sent READS books, and then the teachers were ready to go. They were missing their students and anxious to get back to teaching."
While the project got off to a positive start, one teacher expressed how tired they were after the first day: "It was tiresome, as most learners had forgotten many things." Another teacher expressed, "With grade ones, everything is new at the moment. Not even sounds can be remembered. We are beginning from zero."
On the second day, teachers' spirits soared as they reviewed with students the basic literacy concepts they learned at the beginning of the school year. One teacher wrote, "The day was really great. Those who didn't read the sounds yesterday did it today, meaning they needed a bit of a reminder and practice. There were no problems, only appreciation from parents and the love from children." The students enjoyed writing letters on household items such as pebbles or bottle caps to help them form words.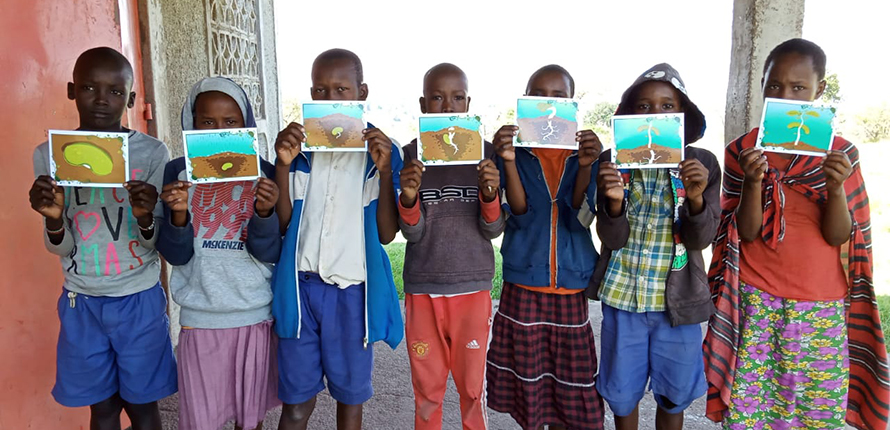 Word of the ABRA @ Home project quickly spread throughout nearby villages and the next challenge was the team's ability to meet demand, as there was a thirst for learning. One teacher wrote, "Another thing that arose while in the field was more learners wanted to participate. But I told them, next round. That is a promise I wish will be fulfilled. Other children were asking why only grades one to three, which I also answered, 'Because they have not fully learned how to read and we are showing them how to assist younger ones.'"
Given that the ABRA program targets primarily young learners, roles were quickly established for students' older siblings to support their younger siblings as they completed their homework. In addition, higher-level printed books from READS were included in the weekly bundles so that all children in the homes would benefit from literacy instruction.
Expanding the program 
Following the first three weeks of the pilot, the ABRA @ Home project expanded to an additional five households in Kirindon and welcomed 10 teachers in Matete, in another region of Kenya. The Matete teachers had been patiently waiting for the pilot project to end so they too could reach out to their students.
On June 29, they began home visits and experienced similar reactions from students as those received by the Kirindon teachers. "Learners were happy to see teachers at their home doorstep," wrote one teacher. "Due to excitement, some had rushed to shave their hair to look smart and others were prepared with books for multiple subjects, ready to learn."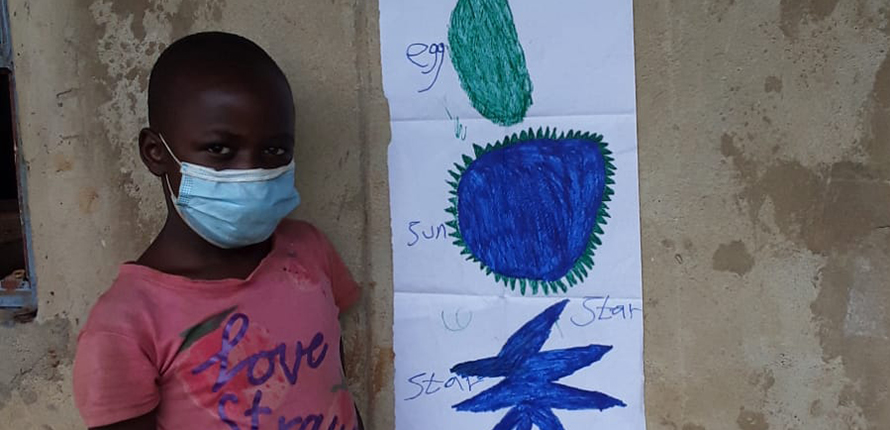 Another teacher expressed happiness at seeing students again. "The kids were excited seeing their teachers at their respective homes. It was such a sweet bonding moment after a long stay at home. I should say it's a good experience that satisfies the heart for being at their service." 
The success of this project has energized teachers, parents and students. With the recent news that Kenyan schools aren't slated to open until January 2021, it is expected the 12-week ABRA @ Home project, which was to end Aug. 31, will be expanded in order to complete the original 20-week ABRA program. 
"While many early primary students and their older siblings will be reached through the program, it is but a drop in the bucket given the tremendous need for continued learning opportunities for students in the remote Trans Mara region of Kenya and beyond," says Gottardo. "Every Kenyan child deserves opportunities to learn while schools are closed and the Kenyan government has responded admirably with radio, TV and Kenyan Education Cloud content. ABRA @ Home can be used for those children, too, but especially for those whose access to media is limited."
What will it take to expand? Willing students, wiling parents, willing teachers and a modest budget to cover printing, transportation and other costs.
"We are hoping that funding will become available to expand the program, which we would continue to support through teacher training and research on its effectiveness," says Wood. "Where there is a will, there is a way."