The Region of Waterloo has declared a climate emergency. So have some of the local governments within the region, including the City of Kitchener and the townships of Wilmot, Wellesley and Woolwich. The declarations have come about in no small part due to the petitioning, lobbying and research of a Wilfrid Laurier University graduate student, Kai Reimer-Watts, who addressed the councils with fellow activist Andres Fuentes Martinez.
"We're in a federal election campaign where we're making very big decisions that impact the future, so making this type of public statement is important," says Reimer-Watts, a doctoral fellow at the Viessman Centre for Engagement and Research in Sustainability (VERiS). "It pushes for climate to be top of mind and makes talking about climate change as an emergency more of a norm."
For Reimer-Watts, who also helped organize Waterloo's Global Climate Strike and Laurier events during Climate Strike week, research and activism are deeply intertwined. He chose to enter Laurier's Community Psychology PhD program two years ago because it takes a similar approach.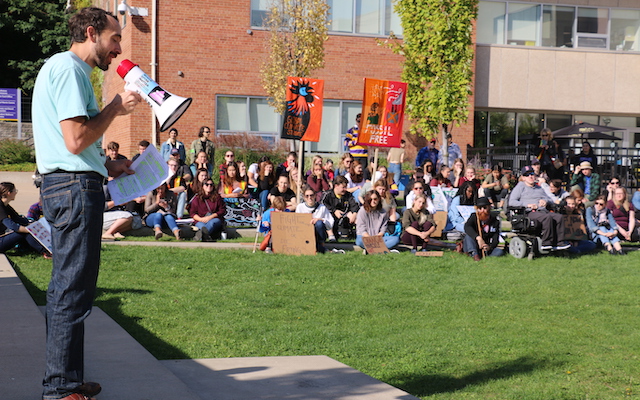 "As I started looking into the values that this program embodies, a lot of them really resonated with my own values, including the strong emphasis on social justice and on recognizing the knowledge and experience that exists in our communities," says Reimer-Watts, whose supervisor is VERiS Director Manuel Riemer (no relation). "The program is a strong balance between rigorous academic research and on-the-ground partnerships with communities."
"It is fantastic to see Kai's leadership on climate action in our community," says Riemer. "In community psychology, we emphasize the importance of using your knowledge and skills to contribute to meaningful change. Kai certainly has done that with impressive results."
Dedicating Life to Climate Justice
Reimer-Watts wasn't always focused on climate issues. His first degree was a Bachelor of Fine Art. In his early 20s, he went to Poland to teach at an international school. That's where he was assigned to teach Grade 5 and 6 students about climate change. 
"At that time, the climate crisis was not something I was thinking deeply about," says Reimer-Watts. "Teaching this course made me realize how urgent the issue is and how little work was actually happening at the scale required. I realized the climate crisis needs people to re-prioritize what matters in their lives and devote themselves to solving it."
Back in Canada, Reimer-Watts got involved with community organizing in both Toronto and Waterloo Region. He completed a Master of Climate Change at the University of Waterloo and started an organization, The People's Climate Foundation, which uses creative activities to educate and engage groups on ways to integrate climate action into their lives and communities.
"It's easy to feel paralyzed and overwhelmed when you're thinking about this situation on your own," says Reimer-Watts. "I know that as one person, I certainly can't achieve the scale of change that's required, but as part of a broad social movement of millions of people, we do have the power to effect meaningful change."
Artist, Activist, Researcher
Reimer-Watts didn't stop being an artist when he became an activist. He has used his skills in filmmaking, graphic design and new media to advance his activism and help people connect to the climate crisis on an emotional level – which research suggests encourages action.
Reimer-Watts's feature-length documentary, Beyond Crisis, which has been screened around the world, sends the message that there is hope for solving the climate crisis. Recently, he produced a short video about Climate Strike Waterloo Region, which he helped organize as a key member of RISE Waterloo Region.
On Laurier's Waterloo campus, Reimer-Watts was the student lead behind the effort to create a mural with the message "Climate is Life." Though he's not the mural artist – that's Kitchener-based muralist Pamela Rojas – Reimer-Watts pitched the idea to Laurier's Sustainability Office, secured funding through the Sustainable Hawk Fund and, as part of a diverse committee, developed the design and organized volunteers to help paint it.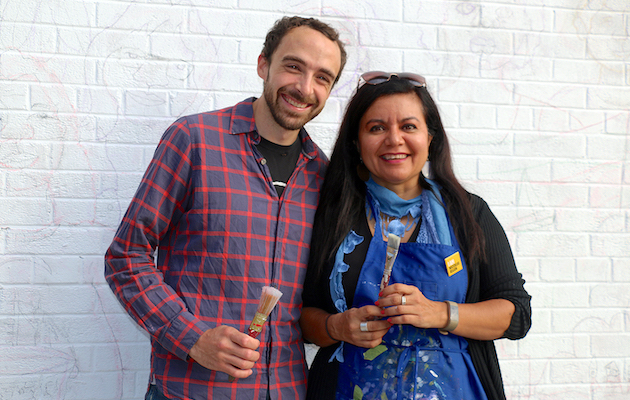 "The mural is a powerful symbol for the campus," says Reimer-Watts. "It will greet thousands of new students every year with the message that sustainability is part of our Laurier community identity and remind us all to integrate sustainability and climate action into our decision making."
The mural is both a product and subject of Reimer-Watts's academic research, which focuses on the role of symbolism in solving the climate crisis.
"We feel dissonance when we know intellectually about the climate emergency but there's little in the public sphere that reminds us of the dramatic shifts we need to make as a society," says Reimer-Watts. "Instead, we're surrounded by symbols such as traffic signs and advertising, which emphasize a high-consumption, individualistic lifestyle. Projects like the mural help us shift that focus and engage through the arts in a participatory way – reminding us that a different world, grounded in community and celebration of life, is possible."
Beyond Symbols
Though Reimer-Watts argues symbols and symbolic acts such as political declarations are important, he knows they're just the beginning. Not only is he continuing to lobby more local governments to declare a climate emergency, he's also advocating for them to adopt carbon budgets, which would limit emissions from municipal facilities.
"It's a practical step that can be taken at the municipal level to make sure that we're actually working toward emission reductions on a year-by-year basis," says Reimer-Watts. "Carbon budgets would give our councils a key tool to walk the talk. They would also encourage the growth of the low-carbon economy."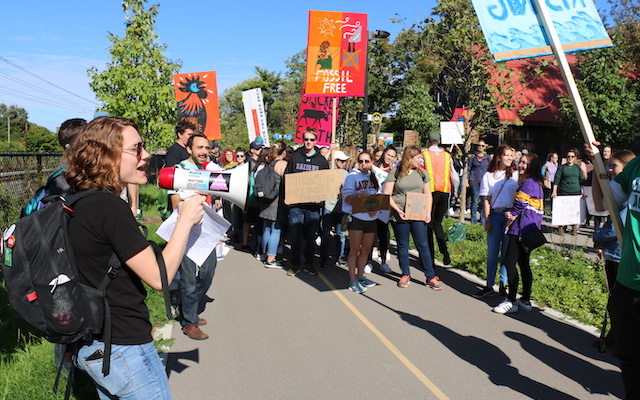 Ultimately, governments and industry need to join large-scale social movements in leading change, says Reimer-Watts.
"I don't tend to focus on whether people are living perfectly sustainable lives," says Reimer-Watts. "Yes, it's good to think about reducing your own carbon footprint, but it's impossible to live sustainably in a fundamentally unsustainable system. I'm much more critical of the CEOs and large funders of the fossil fuel industry who have known about the extreme consequences of climate change for decades and yet have doubled down on misinformation campaigns and failed to act."
People who want to do their part should speak to elected representatives and get involved in community action, says Reimer-Watts.
"The number one thing is for people to believe we can come together to address this crisis. We've done it before – during the Second World War, we completely transformed our economies over the course of several years. Now we need to be accelerating towards a clean economy as quickly as possible, acting on the science, Indigenous leadership, and the leadership of our youth to secure the basic right to a livable future for all life and generations to come. This requires bold action now."