Wilfrid Laurier University's first Game Design and Development graduates are ready to change the world.
Students in the first-ever class to graduate from the program will receive their Bachelor of Fine and Applied Arts (BFAA) diplomas during a convocation ceremony taking place at Laurier's Brantford campus on June 5.
The new program launched in fall 2015 with an aim to provide students the skills to create transformative games that motivate players to engage with the real world. Laurier's Game Design and Development program blends practical skills and design with an overarching humanities approach focused on how games can shape society. The program concept is unique in Ontario.
Professor Scott Nicholson, coordinator of the Game Design and Development program, has had a clear goal for his students since the first day of class: "design games to change the world." It's a goal that has resonated with many of his students.
Stephan Reilly, one of the 14 graduating students, has already completed two projects that allowed him to create games for educational purposes. One of them, Six Degrees, was created in collaboration with the Ministry of the Environment, Conservation and Parks. Another, Discarded, was created in collaboration with the Canadian Public Health Association.
"Games can change players in a good way, through changing behaviours, offering new perspectives and helping players empathize with other people," says Reilly. "If we get more designers thinking about that, it's going to make the world a better place."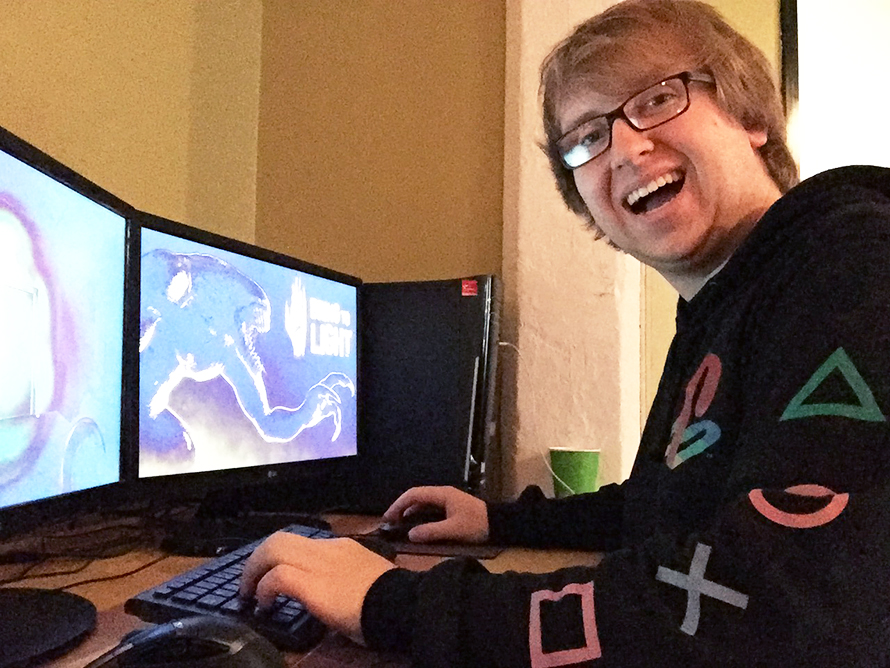 Graduating Game Design and Development student Stephan Reilly
Graduating student Christopher Tenuta helped create a game to educate students about digital privacy and safety with MediaSmarts, a non-profit organization focused on growing digital media literacy among children and youth.
"The idea of creating games to change the world is important to me," says Tenuta. "I believe in experiential learning, using games for training, education or team building. I think games get a bad reputation because people think of them as only recreational, but I feel like there's a lot of potential for gamified experiences integrated into the workplace."
After graduation, student Robert Durant and two of his classmates, Shayne Ganness  and Gabriel Hancock, will be using the "games to change the world" principle to launch a business focused on creating informative games. The trio is creating the business with the help of Laurier's LaunchPad incubator program.
"Games are very engaging mediums and there's plenty of circumstances where you want people to be engaged with something and games are very rarely used," says Durant.
During their final year, students completed a capstone project that saw them conduct half of their coursework in a simulated workplace creating analog and digital games for a real client.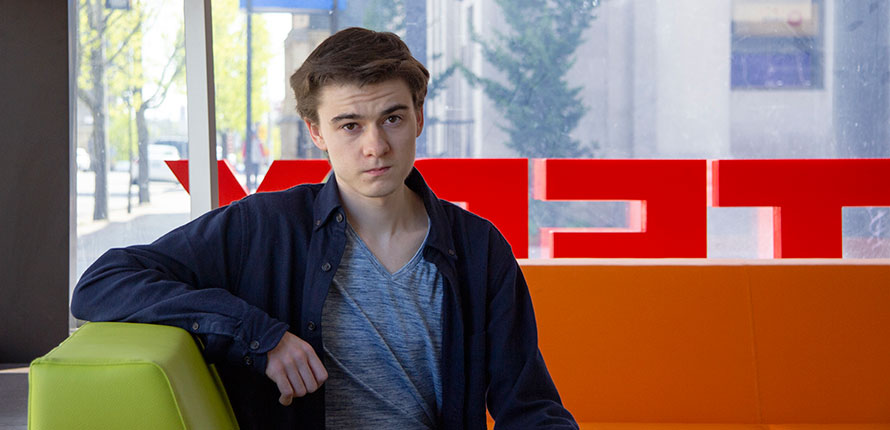 Graduating Game Design and Development student Robert Durant
Extracurricular opportunities
While students develop game design, interactive storytelling, project management and entrepreneurship skills in the classroom, learning doesn't stop there. Game Design students have the opportunity to build their portfolio and expand their skills through extracurricular experiences in the Brantford Games Network Lab (BNGlab). More than half of the program's first graduating class has gained paid design experience through opportunities at the BGNlab.
Those opportunities have included working with Red Bull to design escape rooms for the escape room world championships in 2017 and 2019. The first competition saw more than 9,000 people attempt to earn a spot in the championships, which were held in Budapest, Hungary. In 2019, more than 23 countries were represented at the world championships held in London, United Kingdom.
"Working on something on such a large scale in the summer after my first year of university, creating something for a worldwide competition, I didn't wrap my head around it until we actually saw it come together," says Tenuta. "We created prototypes and built puzzles. Seeing them get produced and seeing them life-size in the real world was really satisfying."
Building connections
Students in the program have also worked on projects with Amazon Prime, the Canadian Public Health Association, Government of Ontario, THEMUSEUM in Kitchener, the Brant Community Foundation, Brantford Public Library and Workforce Planning Board of Grant Erie.
The BGNlab also hosts community events, including escape rooms, mystery hunts and game jams, which bring people together to design and create games in a specific time period.
"I think it's helped us dip our toes in the water of a lot of different fields that come together to form one big toolkit," says Tenuta. "For me, project management experience and user experience design are nice because that opens up possibilities. This program has helped me become real-world ready because of those extracurricular experiential learning opportunities."
Once a month during the school year, an industry professional visits the BGNlab to speak about a game-related topic during an event called GAMEtalk. Organized by Michelle Goodridge from the Laurier Library and Game Design and Development program, GAMEtalk allows students to develop networking skills and learn what it is like to work in the game industry. The events are also open to the public.
"All of the extracurricular events and job opportunities available to Game Design students have really set me up to do well once I graduate," says Reilly.
For many Game Design and Development students, graduating is bittersweet.
"It's both daunting and exciting," says Tenuta, who has been offered a game design position in Ontario. "Daunting, because we haven't seen anyone else go through this program, so we don't have a benchmark from other students. The exciting part about it is that we are the ones who get to go out there and make a name for the program."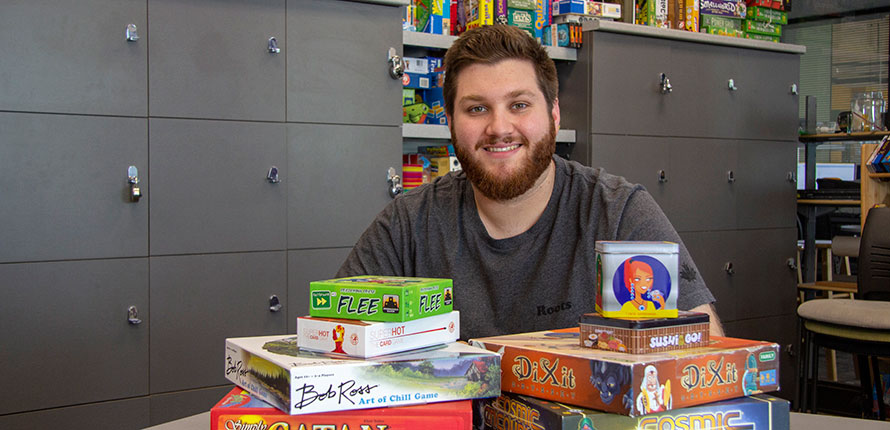 Graduating Game Design and Development student Chris Tenuta
Reilly, Tenuta and Durant say they encourage future Game Design and Development students to take every opportunity afforded to them during their time at Laurier.
"Go out of your way to do everything possible outside of the classroom," says Reilly, who has joined an independent game design studio in Halifax. "Laurier for me was also four years of networking and meeting people and making connections that helped me get a job out of school."
Nicholson says he's looking forward to seeing what the first 14 graduates of Laurier's Game Design and Development program will accomplish.
"I'm excited to see how our first graduates get out there and change the world," says Nicholson.