Wilfrid Laurier University is celebrating the fourth anniversary of a student-driven space dedicated to collaborative social innovation.
The Purpose Lab is an open-concept room on the first floor of the Dr. Alvin Woods Building on Laurier's Waterloo campus. Instead of desks facing the front of the room, there are study spaces, couches, a projector and smartboard, all on wheels. Furniture and décor in the Purpose Lab, even the colour of the carpet, was chosen by students.
"The space encourages productivity," says Kamil Ahmed, a fourth-year Global Studies student. "It has an energy and vibe to it that you can't find anywhere else on campus."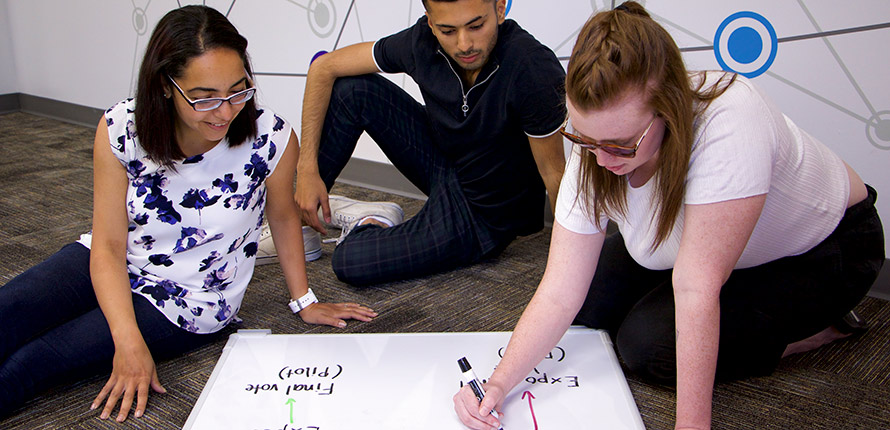 Ahmed is also an intern with C3 Innovation Labs (C3IL), a hub of socially innovative and community-engaged experiential learning opportunities in Laurier's Faculty of Arts. At the end of January, he and other student leaders organized Purpose Week, a series of social innovation-themed events to celebrate the anniversary of the Purpose Lab. The week included a panel of experts in career consulting and financial literacy, as well as talks and demonstrations by social entrepreneurship students and alumni. 
The Purpose Lab was spearheaded in 2015 by Karli Ferriolo, who was in the first cohort of students pursuing Laurier's Social Entrepreneurship option, as part of her capstone SE400 course. Ferriolo felt students kickstarting innovative social ventures needed their own space to brainstorm and bounce ideas off each other. With support from the Wilfrid Laurier University Alumni Association, the Student Life Levy, the Office of the Provost and Vice-President: Academic and the Arts Undergraduate Society, the lab was created with the mandate that it be used solely for activities related to social innovation and social entrepreneurship.
Today, the lab is the hub of C3IL activities, used for Social Entrepreneurship and Community Engagement classes and by students during free work hours. The space is also booked by campus clubs with a social innovation focus, including Enactus Laurier. It's almost never empty.
"We can't imagine running our programs without it anymore," says Edmund Pries, an assistant professor of Global Studies and Religion and Culture and the academic director of C3IL. "In the Faculty of Arts, we pride ourselves on fostering critical thinking, but we also need to nourish creative engagement in order to address the complex challenges faced by our society. And students in the social entrepreneurship option are doing just that."
Since the lab was created, new ideas have formed and evolved. Ahmed works on his own venture, reducing waste in the fashion industry by making one-of-a-kind garments out of discarded cloth. Student Hillary Scanlon has designed signs for waste and recycling units that are accessible to people with vision loss. Student Jamal Khamis is leveraging eco-friendly, biodegradable and reusable cups to reduce waste in bars and clubs. Students work together, both inside and outside of the Purpose Lab.
"Collaboration happens all the time," says Ahmed. "We go to each other's events and launches, we reach out when we need help and offer support whenever we can. We're always working together."