Inaugural Year in Brantford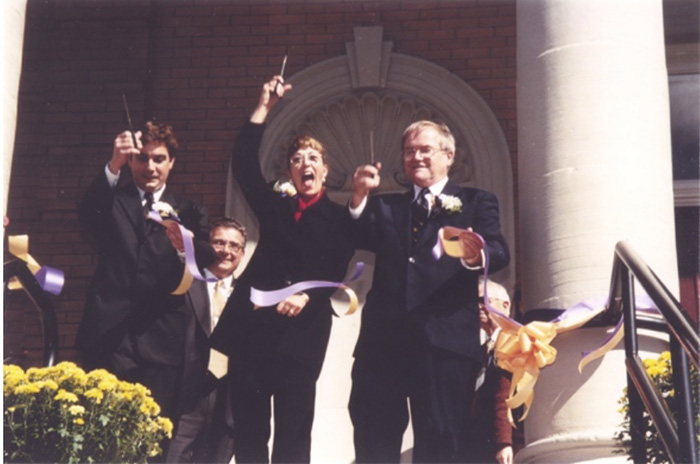 Oct. 1, 1999: Chris Friel, Brantford mayor, Colleen Miller, chair of the Grand Valley Education Society and Bob Rosehart, university president, in front of the Carnegie Building.
This time in history was exciting for the Laurier community. The inaugural class at Laurier's new Brantford campus was adjusting to life at university, starting their second semester in January 2000.
The Brantford campus opened in September 1999, offering a three-year general BA in Contemporary Studies, with a core curriculum. This degree was called a "degree of difference," according to winter 1999 Campus Magazine. Classes were taught in the Carnegie Library. The first full-time faculty members at Brantford were Peter Farrugia and Gary Warrick.
"With 39 full-time students and two faculty members, it was a very intimate campus. You really got to know each and every student, some of whom were mature students," says Farrugia, who still teaches at the Brantford campus.
The City of Brantford welcomed Laurier with excitement and in strong partnership, which continues today with more than 3,000 students and over 20 programs at the Brantford campus.
"The hopes for Laurier in the Brantford community were high and we held this weight on our shoulders," says Farrugia.
Over the years, more programs were added, the student population grew and became more diverse, and faculty and staff members grew in numbers.
"Laurier has been an important element of revival for Brantford," says Farrugia.